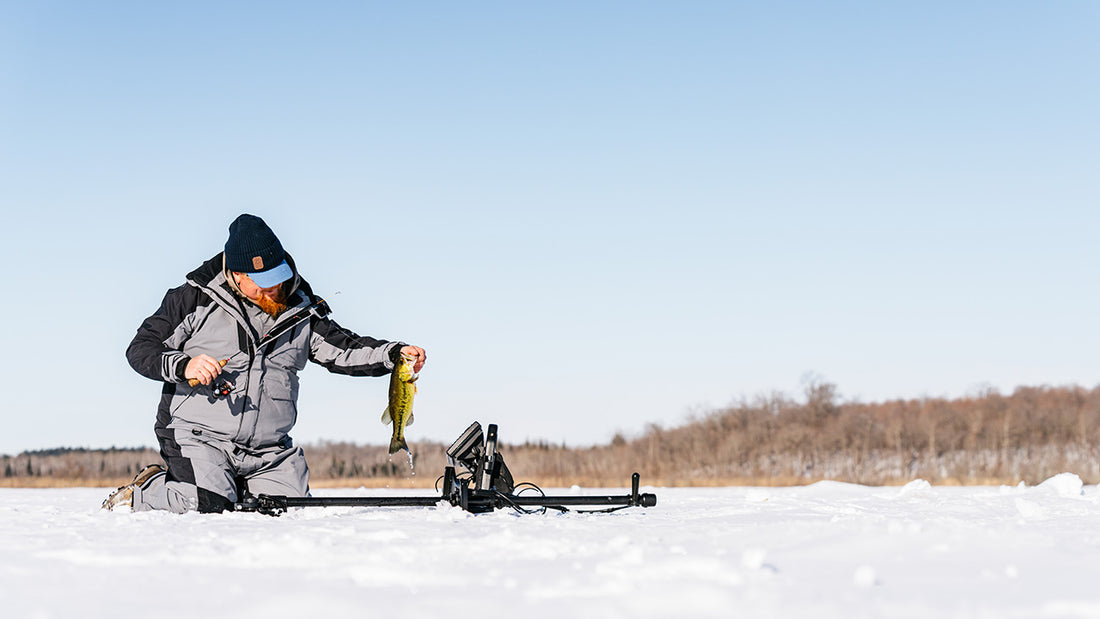 Must Have Ice Fishing Gear
Cold weather has set in upon the northern reaches of the U.S. and anglers all across the region are preparing to hit the "hard water" in droves. Ice fishing participation has steadily increased over the past several years, with advancements in equipment and technology making it more appealing to a wider audience.
AFTCO pro team member Brian "Bro" Brosdahl is one of the foremost ambassadors of the winter pastime and is extremely passionate about educating anglers on the intricacies of the sport. Getting new anglers on the ice is one of Bro's specialties, and he recommends these items as must-haves before you set out on your first ice fishing adventure.
1. Insulated Ice Fishing Suit
Staying both warm and dry while on the ice is paramount. Brosdahl recommends the AFTCO Hydronaut Insulated Fishing Jacket and Insulated Bib to get the job done. "The Insulated Hydronaut suit is my go-to during the cold months on the ice. It is waterproof which is essential for kneeling down on the ice to land fish and drill holes. The suit also has an ergonomic fit which creates less fatigue while kneeling, bending down, and moving around. The cuffs and zippers keep snow and moisture out while allowing me to comfortably fish all day long." said Brosdahl.
Hydronaut® Insulated Fishing Bib
The original Hydronaut already touts extreme warmth when the coldest temperatures confront you, but staying out in the snow is another story. If snow is falling or ice fishing time has come, the Insulated Hydronaut has you covered.
Hydronaut® Insulated Fishing Jacket
Featuring a 2-layer 100% Nylon shell that has a 30k waterproof rating and is lined with 100% polyester. Add on a synthetic 140 gsm fill batting to add extra warmth and be warm and comfortable in any cold temperature.
2. Ample Layering
Properly dressing for a day on the ice doesn't have to be such a daunting task. Layering your fishing clothing using a base layer, middle layer, and outer layer allows you to easily regulate your body temperature as well as your comfort level. "Underneath my Hydronaut Insulated Fishing Jacket and Bib, I keep my layering pretty simple. I typically stick with the AFTCO Yurei Long Sleeve shirt for my base, and then utilize the F2 Midlayer Pant and Zip Fleece jacket for the mid-layer, and top it off with the Reaper Fishing Sweatshirt. The Reaper Sweatshirt is a must-have for all anglers on the ice, being able to pull up the integrated face mask is a life saver when the snow gets to blowing out there on the ice" said Brosdahl.
Shop Hydronaut® Insulated Jacket
3. Cold Weather Fishing Gloves
All fishing gloves are not created equal. Finding the best cold weather fishing gloves can be challenging, but are a must to keep your extremities from getting cold. Utilizing a two-pronged approach to protect your hands during cold weather fishing is something we highly recommend.
AFTCO Helm Gloves
As a base layer for hand protection, the Helm Insulated Fishing Gloves offer a 4-way stretch outer shell with microfleece insulation and reinforced silicone textured palm.
AFTCO Hydronaut Gloves
Combine the Helm Insulated Gloves with a pair of waterproof fishing gloves and you have a functional cold weather glove system that will keep your hands warm even on the coldest winter days. The Hydronaut gloves are constructed with a 220D 4-way stretch shell and feature 3M™ Thinuslate™ insulation, water-resistant DWR, adjustable Velcro wrist straps, touchscreen compatible index fingers with integrated screen wipes and reflective accents for low light conditions.
4. Winter Fishing Headwear
While the idea that body heat loss occurs primarily through the head has been debunked, wearing the proper beanie while on the ice can make all the difference. "I really like the AFTCO Summit Beanie. It fits down nicely over my ears without being to snug, and is Sherpa lined so it is super warm." Brosdahl concluded.
5. Safety Gear
Safety should always be the number one consideration while ice fishing. Before heading out on the ice, anglers should pack the necessary equipment to make their trip safe and successful. "Ice picks are a must-have piece of safety equipment for ice fishing anglers. These picks are worn around your neck and can be used to pull yourself out of the water if you happen to fall through the ice. I typically pack an extra pair just in case I misplace mine or am fishing near a fellow angler who may have forgotten to bring them," Bro continued.
6. Technology
More sophisticated technology is one of the driving forces behind the recent boom in ice fishing popularity. Brosdahl has been hitting the ice for decades and has fished through several different generations of sonar and other tools to allow you to find and catch more fish while out on the ice. There are a few tools that are standouts for Brosdahl that he highly recommends. "Two tools that I am going to have with me every time I am on the ice nowadays are my Humminbird MEGA LIVE with GPS and my Aqua-Vu underwater camera. The forward-facing sonar and GPS combined with the Aqua-Vu camera allows me to be so much more efficient and helps me easily identify the size and species of fish I am targeting," said Bro.
Now that you have some of the basics for a great day of ice fishing always remember to make your safety a top priority. Frequently checking ice and weather conditions before heading out is always recommended. Make sure to know and follow your state's licensing and regulation requirements and have a great time out on the ice!