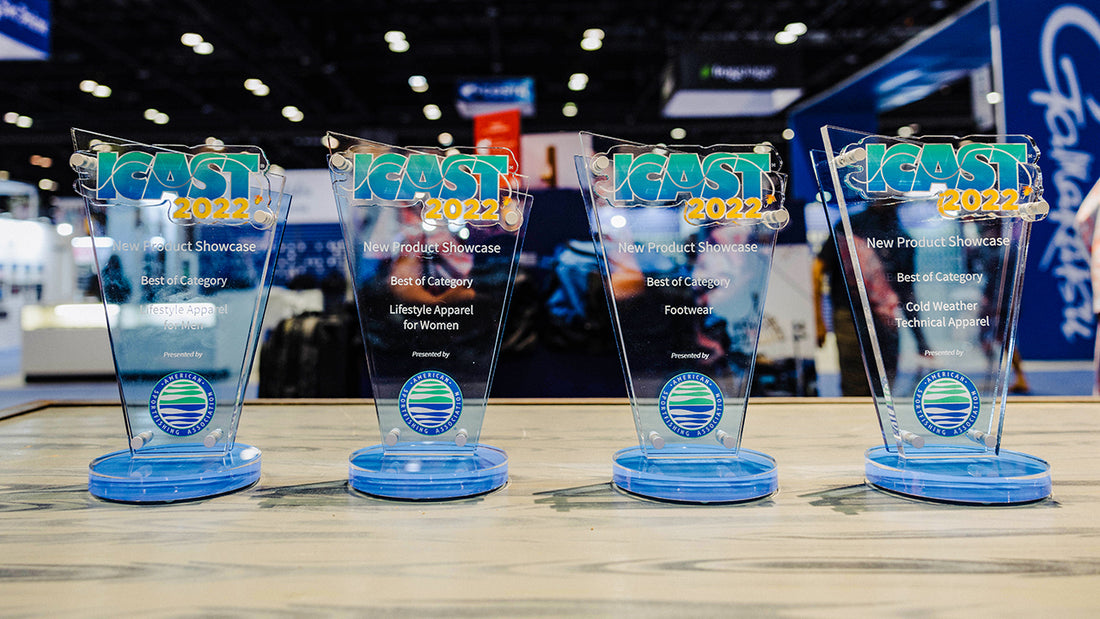 AFTCO Wins Big at ICAST 2022
With ICAST 2022 in the books, we are stoked on another successful release of all-new gear for anglers around the country. Looking back, we are proud of not only the accolades our products received at the show, but also the way we incorporated sustainability into our ICAST booth.
We are no strangers to best-in-category products, and 2022 is no different, having added four new product showcase awards to our repertoire. This year we won awards in Cold Weather Technical Apparel, Men's Lifestyle Apparel, Women's Lifestyle Apparel, and Footwear. In the last five years, AFTCO has won 14 out of 17 New Product Showcase awards in the apparel categories. That brings the total to 15 New Product Showcase awards with the addition of this year's footwear category, which is a new award for AFTCO.
ICAST 2022 Best of Category
Footwear
Ankle Deck Boots
Designed from the ground up to fulfill the demands of our pro team, guides, and customers, the Ankle Deck Boots deliver a heightened level of comfort via an eco-friendly neoprene inner liner that dries quickly and is fully flexible. Paired with a custom compression-molded anti-microbial insole, these boots offer the right amount of cushion, rebound, and support season after season.
ICAST 2022 Best of Category
Cold Weather Technical Apparel
Barricade Rain Suit
Barricade in new Green Acid Camo won the 2022 ICAST New Product Showcase award in Cold Weather Technical Apparel. It is built with high-end features at a competitive price, offering a durable 3-layer construction, 20K waterproofing, 15K breathability, SpeedVent™ hood and more! Double Dry adjustable cuffs prevent water from seeping up the arms. A plier pocket on the bibs with 500D nylon keeps tools at the ready. Signature AFTCO jacquard elastic adjustable shoulder straps along with a waist side adjustment system will make this suit fit comfortably for any angler.
ICAST 2022 Best of Category
Lifestyle Apparel for Men
Cocoboardie Boardshorts
Coconuts are an important staple in the tropics. Found near some of the world's best fishing waters, they're commonly harvested for food and used in cosmetic and medical products. Once harvested, the coconuts are often discarded in landfills. The boardshorts are made with Cocotex® fabric — an amazing performance polyester infused with activated charcoal from repurposed coconuts. This combination repels water, resists odor, and dries ultra-fast. Cocoboardies secured the award at ICAST 2022 New Product Showcase award for the Men's Lifestyle Apparel category.
ICAST 2022 Best of Category
Lifestyle Apparel for Women
Women's Reaper Windproof
The women's Reaper windproof took the award for ICAST 2022 New Product Showcase in the Women's Lifestyle Apparel Category. Constructed from a durable stretch ripstop softshell fabric that has a DWR finish and keeps the wind chill out, it features a built-in face mask that is lined with our ultra-warm Hexatron™ fleece material. Laser-cut ventilation in the underarm area and an easy-access side zipper complete the features. For the angler in search of a comfortable super warm softshell that provides wind protection, the AFTCO Reaper Windproof is the versatile piece that checks all the boxes.
AFTCO's ICAST Booth
2021 was the first year we created a sustainable tradeshow booth with the help of Cartonlab. At ICAST 2022, we continued our commitment to sustainability and conservation with a 50' x 30' fully recyclable tradeshow booth printed on FSC-certified materials from sustainable sources. Again we partnered with Cartonlab to turn this vision into reality.
At twelve feet tall, the design features a nod to several of our conservation partners and a call to action to engage the industry with a few simple tips to incorporate sustainability into everyday life. AFTCO is living by these tips as a company by integrating sustainability into our manufacturing processes, products, packaging, and day-to-day operations.