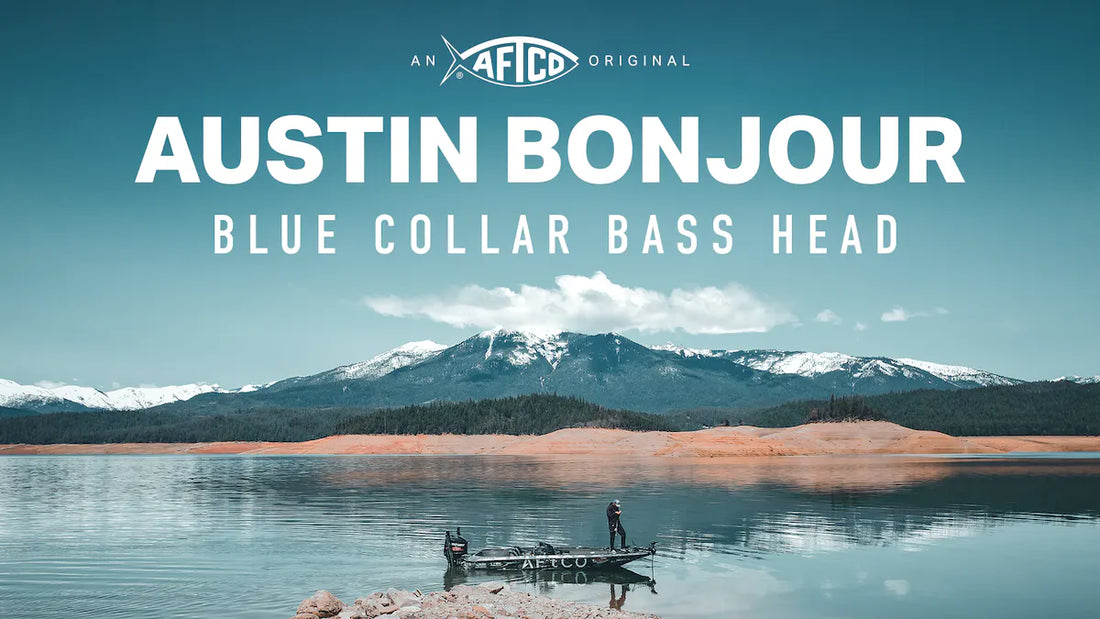 Blue Collar Bass Head - Austin Bonjour
Northern California is known for two things: its vast bodies of water and the potential to tap into some pure California gold in the form of bass. Whether it's competitive tournament bass fishing or just being out for pure, unadulterated fun, Austin Bonjour has a passion like no other and stops at nothing to fulfill his drive to rise in the ranks of competitive bass fishing. You may have seen his name atop the leaderboards of the Apex Tour, Wild West Bass, or WON Bass, but this short film gives you a deeper look into the glorious yet driven mind of one of the West Coast's fishiest bass heads.
AFTCO freshwater pro team member Austin Bonjour is currently in the midst of preparing for his 2023 tournament season, and getting his bass fishing apparel and gear in order is a high priority. "One thing about tournament bass fishing is that you are faced with all types of different weather conditions while on the water, so you need to be prepared to handle it all," says Bonjour.
Having the proper fishing gear and apparel can help increase your focus and performance while on the water by keeping you protected from the elements. Staying warm and dry is paramount during tournaments, and Austin recommends these 5 must-haves for tournament anglers.
1.  Bass Fishing Rain Gear
You never know when a rain shower is going to pop up, and tournament fishing doesn't include "rain delays". Built with extreme weather fishing in mind, the AFTCO Barricade jacket and bib feature a 3-layer ripstop construction to keep you dry and warm, even in the harshest conditions.
Barricade Jacket
Barricade is built with high-end features at a competitive price, offering durable 3-layer construction, 20K waterproofing, 15K breathability, the signature SpeedVent™ hood and more!
Barricade Bib
Featuring the same great construction as the Barricade Jacket. Built with adjustable shoulder straps, convenient pliers storage, knee high zippers, and more.
2. Cold Weather Fishing Gear
Most tournament trails begin early in the year, and colder temperatures are just part of the equation. Constructed with an insanely comfortable and warm microfleece fabric, the Reaper Fishing Sweatshirt features a specially designed built-in face mask and neck warmer. This is a must-have piece of tournament bass fishing apparel whether worn standalone or as a crucial layering piece. The AFTCO Reaper is the go-to when warmth is paramount.
3. Fishing Hats
Having the proper fishing hat can be an essential aspect of your tournament fishing apparel. Staying warm with a beanie or providing shade to your head with a trucker hat can both be important pieces of having a great day on the water during your tournament.
Bass Patch Trucker Hat
Classic trucker hat with a mid crown fit and low curve bill.
Summit Beanie
This sherpa lined beanie delivers complete warmth both on and off the water. Features a ribbed crown and suede patch.
4. Boat Organization
Getting and staying organized can make you more efficient while on the water. Being able to find your gear quickly during a tournament gives you more time to concentrate on the task at hand. The AFTCO Boat Bag keeps your necessities safely stowed away and dry. It's constructed with an ultra-durable recycled 600D polyester material and features a seam-sealed base for maximum protection against splashing and water intrusion. Storing your gear onboard in the Boat Bag allows you to find and access what you need with ease.
5. Fishing Shirts & Gloves
Regardless of the season of your tournaments, wearing the proper clothing to protect you from the sun by blocking or absorbing harmful UV radiation is paramount. Choosing the proper performance fishing shirt to not only offer protection, but either keep you cool or warm is something that can be very beneficial. These shirts feature quick dry technology, moisture-wicking material, and stain resistance. When gearing up for sun protection and comfort for a day of tournament fishing don't overlook fishing gloves for your hands. The Solago Sun Gloves offer sun protection from the wrist to the mid-finger, while still having an open palm and fingertips, which allow ultimate sensitivity, bite detection, and rigging dexterity.
Passion and dedication may not be available for purchase, but are typically two characteristics that all dedicated tournament anglers must possess. The best fishing tackle, gear, and apparel are no substitute for hard work, passion, and dedication. "People come up with so many excuses of why they aren't getting out there and fishing, and I understand all that, but where there's a will, there's a way if you want to go bass fishing. You just got to work hard, which boils down to passion," Bonjour concludes.
Tactical Camo Performance Shirt
This best-selling UPF 50 performance shirt should be a staple in every angler's clothing arsenal. Built with advanced quick dry properties, stain resistance, and an antimicrobial treatment.
Solago Sun Gloves
The ultra-lightweight material and open palm design is ideal for detecting the slightest bite vibrations through the reel or rod handle. Perfect for all types of light tackle fresh and saltwater fishing where sun protection and bite detection are critical.