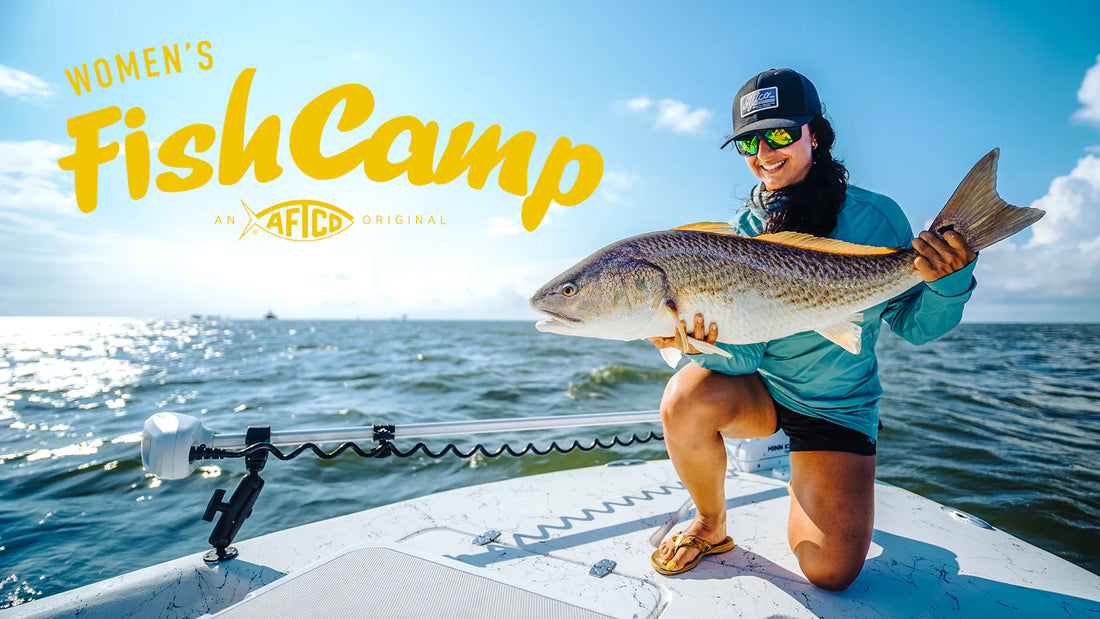 Last August, we hosted our first AFTCO Women's Fish Camp at Journey South Outfitters in Venice, Louisiana. Aside from the world-class fishing and hospitality, we were honored to partner with one of our long-standing female pros, Capt. Moe Newman, to make this week a reality. With the goal of getting out on the water and around the table to test out this spring's women's fishing line, we invited nine of our female ambassadors to make the trip out. With pros from all over the country including Florida, Texas, Wisconsin, and Georgia, to name a few, these ladies represented saltwater and freshwater perspectives on clothing that have shaped the final offerings for this spring and our future line plans.
With three half days on the water, the girls got to do a mix of inshore, nearshore, and offshore fishing, exploring Louisiana's vast web of marshes and venturing out to the rigs for some reds, amberjack, and even a little tarpon action. The ladies were able to try out our newest Air-O Mesh fishing shirts in the ninety degree afternoons along with some tried and true staples like our Sandbar Boardshorts, Field Shorts, and Samurai Sun Protection Shirts. The fit, breathability, and refreshing color palettes for this line were among the compliments received by the girls.
After some productive days on the water, they gathered around for some Cajun classics prepared by Moe and Eric Newman, including a shrimp boil, muffulettas and dry-aged tuna. After dinner each evening, the AFTCO product design team led discussions with the ladies around upcoming product concepts and ideas for stories and campaigns they can get behind. Made by women for women, the AFTCO line of women's fishing clothing is designed to perform at the highest level without compromising comfort and style. Each of these conversations confirmed we're headed in the right direction while opening up the floor for new ideas that haven't been explored in women's fishing apparel.
More important than these valuable insights were the friendships formed on and off the water and the shared opportunities to give each other a window into different worlds of fishing. Whether it was Kaitlin Woodward catching her first saltwater fish, Lakelynn Parker teaching the girls how to rig a belly bait for swordfish or Alexandra McNeal hosting fly casting demonstrations before dinner, everyone walked away with newfound friends, skills, and excitement for what bringing a group of women together like this could accomplish in the fishing industry. With aspirations for the future and plans to get the girls together again, the team left with a sense of excitement for the future and plans to get out on the water together soon. Until next time, this line is dedicated to our AFTCO women.