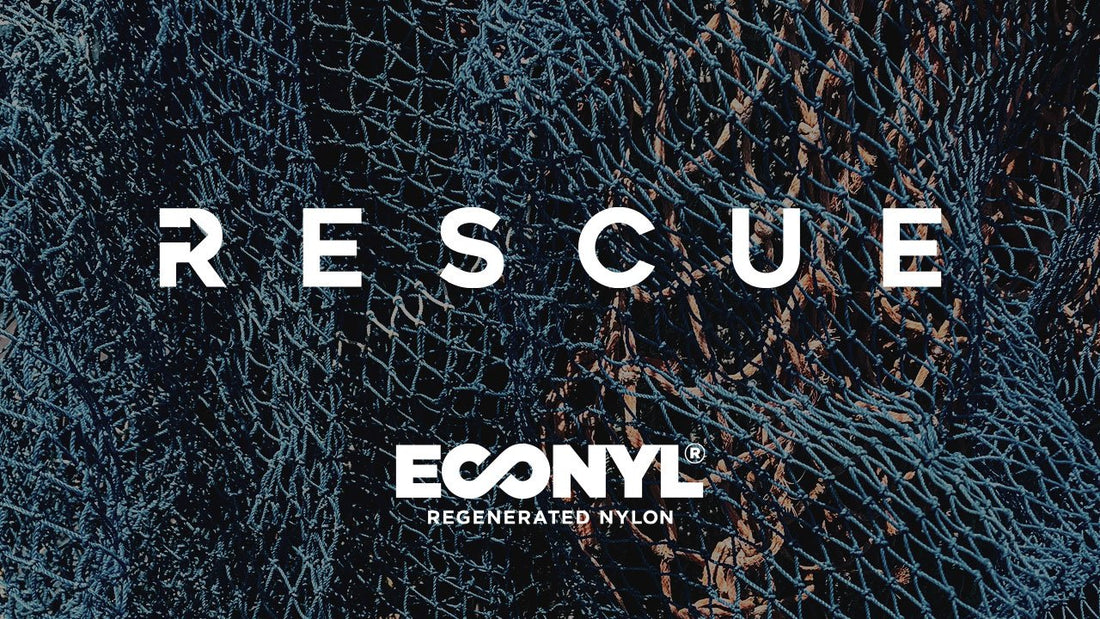 Rescue Collection Made With Econyl® Yarn - AFTCO Moves to Regenerated Nylon
AFTCO utilizes fabrics made with ECONYL® yarn to create clothing made of regenerated nylon waste.
ECONYL® yarn is a 100% regenerated nylon made from pre and post-consumer nylon waste such as fishing nets, carpet flooring, and industrial plastic. Normally, nylon has a significantly detrimental impact on the environment but by utilizing ECONYL® regenerated nylon we create new products without using new resources.
As well as being a solution for waste, ECONYL® regenerated nylon is also better when it comes to climate change. It reduces the global warming impact of nylon by up to 90% compared with the material from oil.
The collection launches with Rescue Fishing Short, Rescue Lightweight Fishing Hoodie, Rescue Trucker Hat, and Fishing Hat. These items will be available starting Spring of 2022.
View the full Rescue Sustainable Clothing Line Here.
Rescue Shorts
Headlining the Rescue line getting submitted to the 2021 ICAST New Product Showcase, the Rescue Cargo Shorts feature a durable ripstop 86% ECONYL® regenerated nylon, 14% spandex 141gsm. Other features include 4-way stretch, DWR stain resistance, unique slide elastic waistband, 300D plier utility pocket + Block Tapey closure, crotch gusset, and a 10" inseam.
Moving to fabrics made with ECONYL® regenerated nylon is a huge step in eliminating waste. Creating clothing for all extremes, from summer in Costa Rica to winter in Alaska, AFTCO clothing requires significant thought regarding design and longevity and can be difficult to include sustainable practices without losing some of the attributes of what makes the clothing efficient for whatever Mother Nature throws at us. With that being said, moving to sustainable fabrics made with ECONYL® yarn is a huge step in eliminating wasted materials, and reusing materials that may be out in the environment causing damage to our planet.
Fabrics made with ECONYL® regenerated nylon will be used in four new products for Spring 2022 and will increase as we move towards a goal of 90% recycled fabric materials by 2025. Flagship styles like AFTCO's Samurai and Yurei Air-O Mesh hood will start shipping in recycled alternatives starting in 2022 and more styles will be added utilizing both fabrics made with ECONYL® yarn as well other recycled materials to achieve our 90% goal.
AFTCO's recycled products are a part of a much larger pledge to reducing our brand's environmental impact on the oceans, lakes, rivers, and land that support our fisheries. We pledge to integrate sustainable practices into our product manufacturing process, packaging materials, and internal day-to-day operations while future goals include the elimination or reduction of the use of plastics wherever possible. AFTCO's sustainability pledge represents a commitment to create fishing gear that contributes, not detracts from, the health and wellbeing of waterways and fisheries.
Taking these actions will have a positive impact on the water conditions that support fishery health. Reducing our landfill footprint ensures better water quality. Switching to recycled polyester contributes to reducing the estimated 8 million metric tons of plastic entering our oceans. That is on top of the estimated 150 million metric tons that already exists in our oceans today. Switching to recycled paper means less freshwater usage and lower carbon emissions. This is just a start, but as we seek to educate the next generation of anglers and reduce our impact, we can ensure cleaner waters and the restoration of fisheries for the future.
Follow along with our journey and learn more at https://www.aftco.com/fisheriesfirst.