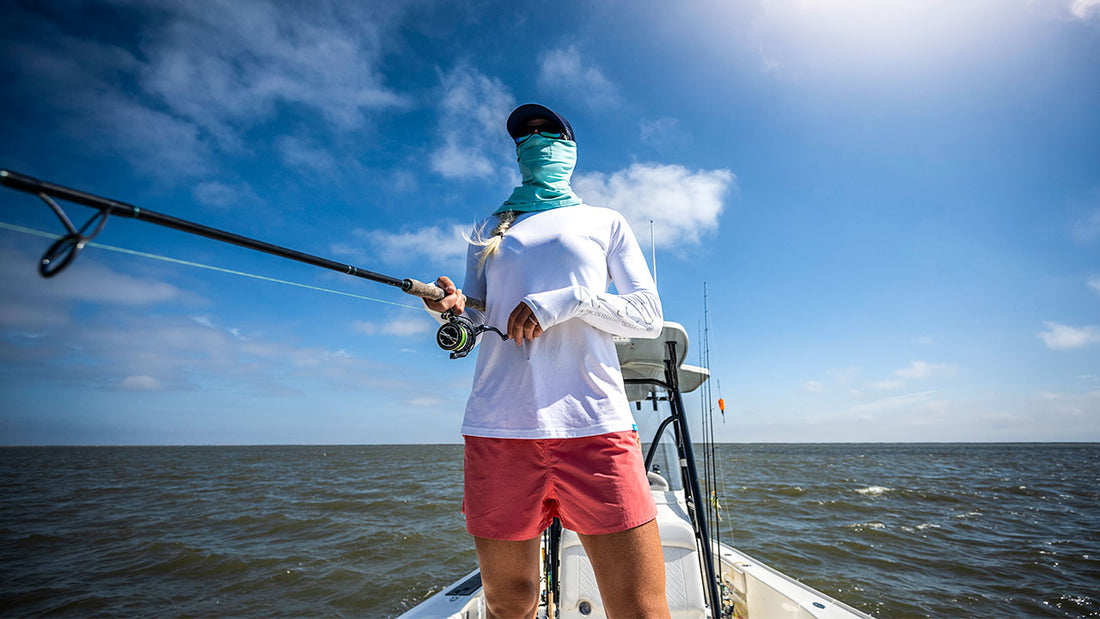 Capt. Moe Newman's Top 5 Gear Picks
Capt. Moe Newman of Journey South Outfitters is no stranger to time on the water and has to make sure she has the best gear—not only for herself, but for her clients as well.
"As a guide, AFTCO has me covered from sunup to sundown. Below I will highlight my five favorite items that I use every day." — Moe Newman
1. Women's Fishing Shorts
My favorite pieces in the AFTCO women's line are the women's fishing shorts. I wear them everyday, plus they feature a lot of pocket options for me to hold various items from weights to chapstick.
Women's The Original Fishing Short
A modern feminine take on an AFTCO best-seller, the women's version of the Original Fishing Shorts features unbelievable comfort and durability. Equipped with five functional pockets including a pliers pocket for ample storage capacity.
2. Saiko Pro Fluorocarbon Leader
Next in the line-up is the Saiko Pro Fluorocarbon Leader in pink. I prefer pink because fish cannot see it which translates to more bites. Plus, I fish rig structures and below the surface is a lot of barnacle growth which can quickly cut a line. The abrasion resistance of Saiko allows my clients to land more fish.
2. Saiko Pro Fluorocarbon Leader
Saiko Pro leader line is a 100% custom formula fluorocarbon fishing line made in Japan for optimum leader performance. Featuring a supple yet hard finish that provides supreme abrasion resistance, Saiko Pro Fluorocarbon Leader is stronger after abrasion than leading competitors.  
3. Sun Masks
Sun protection is very important to me, and the Solido Sun Mask keeps me fully covered all day. The best part about the mask is the mesh breathing panel. This is key because it allows me to keep my mask up over my nose without fogging up my glasses.
Solido Sun Mask
The Solido Sun Mask is a stretch polyester sun mask constructed with UPF 40 sun protection rating to help protect your neck and face from harmful UV rays. 
4. Aluminum Gaffs
The Aluminum Gaff is my go-to because it is durable and corrosion-resistant so it won't rust, and it's  available in multiple configurations to fit any fishery. I'll use a shorter gaff with a small hook when targeting mahi from a small boat, or go with the longer six-foot handle and a bigger hook for tuna.
5. AFTCO Fillet Knives
The final item I use that brings the whole day together is the AFTCO x Böker Fillet Knife. Great grip, cuts like butter, and is offered in many different blade lengths depending on the size of the catch I'm cleaning. With day after day use the knife holds its edge!
 Fillet Knife
AFTCO fish fillet knives are built in collaboration with Böker Germany to deliver premium blad options for gamefish processing of all sizes.