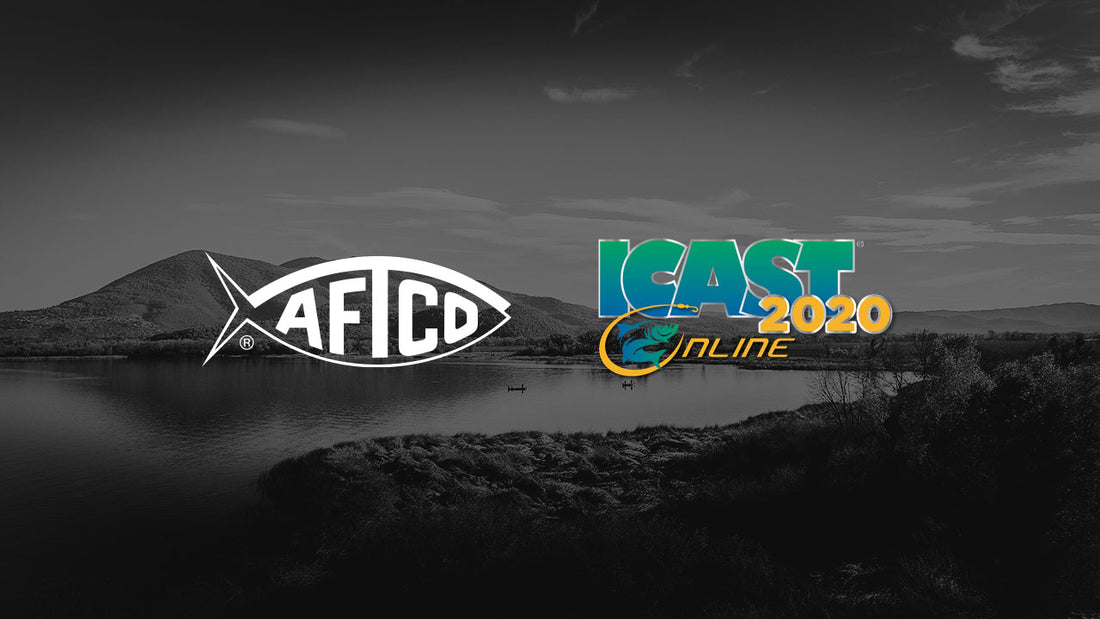 ICAST 2020 New Product Showcase
ICAST NPS Day 2
ICAST NPS Day 1
1. Reaper Windproof 3-Layer Jacket
New Product Showcase: Cold Weather Technical Apparel
The Original Reaper — Upgraded. The Reaper Windproof 3-Layer Jacket is constructed from a durable stretch soft shell ripstop fabric with an ultra-warm Hexatron™ fleece lining and integrated face mask.
Learn more about Reaper Windproof 3L Jacket here
---
2. Diffuse Air-0 Mesh® Fishing Shorts
New Product Showcase: Warm Weather Technical Apparel
The only shorts you need to diffuse any situation. AFTCO checks yet another box off the innovation bucket list with the first pair of technical fishing shorts made entirely of AFTCO's breathable, yet durable Air-O Mesh® technology. The Diffuse Air-O Mesh fishing shorts accomplish this with a proprietary 100% polyester mechanical stretch fabric with dissolving yarn that creates micro Air-O Mesh® venting throughout the shorts. Reap the benefits of ultimate comfort in warm, humid climates that would otherwise make for a sticky situation.
Learn more about Diffuse Air-0 Mesh® Fishing Shorts here
---
3. Saba Recycled Seam-Free Boardshorts
New Product Showcase: Mens Lifestyle Apparel
A pair of boardshorts that cares about the environment? You got that right. This is AFTCO's first dive into recyclable material integrated within our technical fishing clothing. Saba recycled boardshorts are made out of sustainable 88% recycled polyester and 12% spandex fabric that is feather-light. In fact, these are the lightest boardshorts ever built by AFTCO. To accomplish this, AFTCO reduced the amount of seams and any other unnecessary trims to deliver maximum comfort with a "Seam-Free" construction.
Learn more about Saba Recycled Seam-Free Boardshorts here
---
4. Women's Hydronaut Heavy-Duty Waterproof Bib & Jacket
New Product Showcase: Womens Lifestyle Apparel
Hydronaut was meticulously designed based on direct feedback from the AFTCO Freshwater Pro Team to handle extreme foul weather conditions when comfort, performance and focus is needed most. Our ICAST award-winning Hydronaut jacket and fishing bibs are now available for the women on the water that need the ultimate in shelter from any storm.
Learn more about Women's Hydronaut here
---
5. All-New 7" & 9" Flex-Fillet Knives
New Product Showcase: Cutlery, Handpliers or Tools
Top guides and anglers around the country have gravitated towards AFTCO's fillet knives to provide the right tool to get the job done. We are excited to now offer a 7" & 9" flex-fillet version of our knives built in collaboraion with Böker. Get the precise cuts for Panfish, Flounder, or other species that require adequate flex for proper fish processing.
Böker 4116 German stainless steel blade
Full tang construction
56-58 Rockwell hardness, sub-zero quench process
Upswept blade design
Learn more about our Flex-Fillet Knives here
---
6. Saiko Pro 100% Fluorocarbon 50 & 100 Yard Spools
New Product Showcase: Fishing Line
Saiko Pro is a 100% custom formula fluorocarbon made in Japan for optimum leader performance. Features a supple yet hard finish that provides supreme abrasion resistance — up to 20% stronger after abrasion than leading competitors. The knot and crimped strength of Saiko Pro is unmatched, and the line will generate bites from finicky tuna, billfish and inshore species when the other brands get refused!
Learn more about Saiko Pro here
---
7. JigPro Jigging Glove
New Product Showcase: Fishing Accessory
Designed with the input of world-famous jigging expert Benny Ortiz, the AFTCO JigPro gloves are built for the serious spinning or conventional jigging angler. From grip-enhancing palm panels to reinforced finger zones that allow you to monitor your line without hampering feel, these gloves have it all. The JigPro gloves deliver a definite advantage for all styles of saltwater jig fishing.
Learn more about JigPro Jigging Gloves here