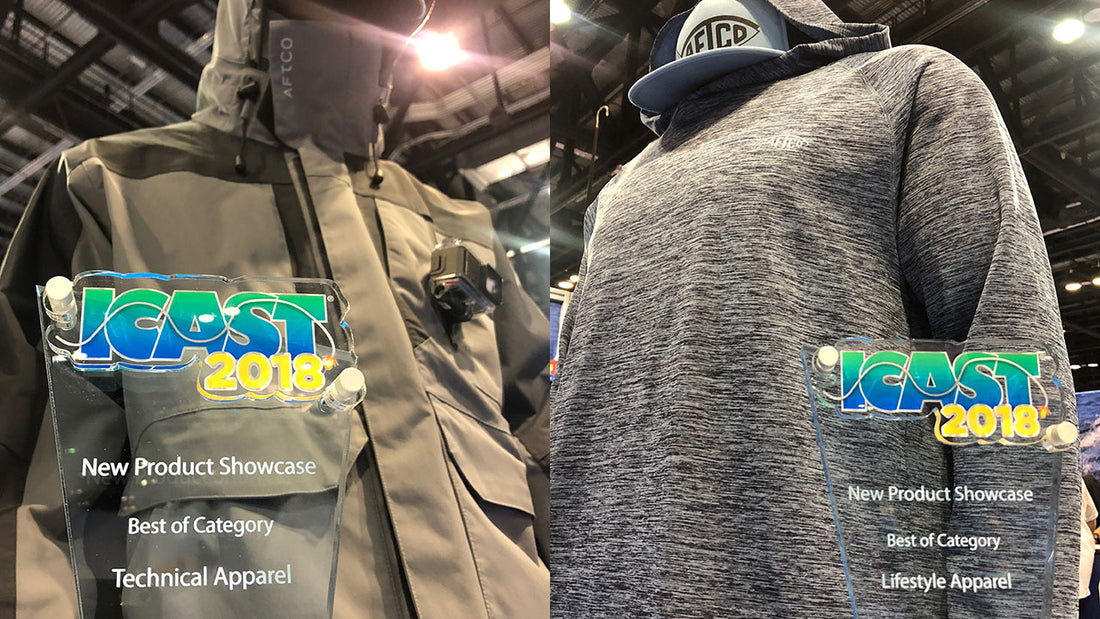 Not changing the game, just making it more comfortable - AFTCO Wins at ICAST 2018
AFTCO scored big at the ICAST 2018 New Product Showcase with Best of Category wins in both the Technical and Lifestyle Apparel categories. Combining technical innovations with performance comfort, see AFTCO's award winning products below.
Hydronaut™ Waterproof System
AFTCO's Hydronaut™ — ICAST 2018's Best of Category for Technical Apparel — was meticulously designed based on direct feedback from the AFTCO Freshwater Pro Team. With features like a 20K 100% waterproof two-layer nylon shell, a SpeedVent™ airflow hood designed to alleviate neck strain and restriction from airflow when travelling at high rates of speed, and the Cyclops integrated camera mount pocket for easy filming, Hydronaut™ is built to handle extreme foul weather conditions when comfort, performance and focus is needed most. In addition to the Double Dry Cuff on the Hydronaut™ Jacket, the waterproof fishing bib also includes an adjustable stretch shoulder system and more. 
Hexatron Performance Hoodie
AFTCO's new Hexatron Performance Hoodie — ICAST 2018's Best of Category for Lifestyle Apparel — delivers the technical aspects that you know and expect from a traditional sun protection shirt, but also provides mid-layer warmth with a proprietary heathered Hexatron dobby fleece fabric. Anglers will appreciate the versatility of Hexatron, whether worn as standalone shirt on cool days or integrated into your layering system worn under one of your favorite fishing jackets. Hextatron is built to keep you comfortable for a full day on the water.