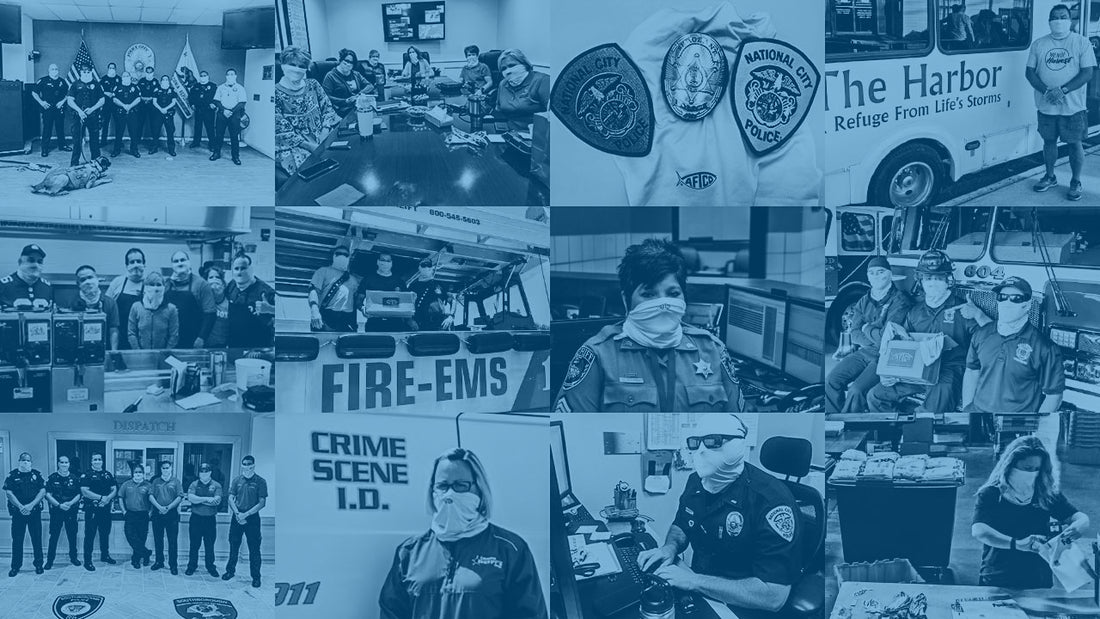 350,000 Donations: Buy 1, Give 1 Mask Program
B1G1 Mask Program Generates Overwhelming Response
After looking at many successful 1:1 give-back models, we felt compelled to create AFTCO's own Buy 1, Give 1 Mask Program. Each mask purchased results in a donation to an organization or community member in need. What we did not expect in the process was the overwhelming response we'd receive!
Through this program, our customers and partners in retail have absolutely risen to the occasion, helping donate 50,000 fishing face masks and 300,000 disposable masks. The 75,000+ Buy 1, Give 1 masks purchased resulted in 350,000 mask donations and counting. We are blown away by your support and cannot thank you all enough for helping to make a positive impact within our communities.
We have learned a lot during this journey, including how thankful we are for the fishing and outdoor community. As we coordinated the distribution of masks with some of our retail partners, we quickly found that many were thankful for the fishing masks, but a disposable style mask better suited their needs. In these instances, we donated at least 3 disposable masks for every 1 fishing face mask sold.
These masks have been donated to police and fire departments across the country, the Department of Natural Resources, retirement homes, homeless shelters and dozens of other local community organizations. However, we need your help in finding additional homes for these masks. If you are a member of an organization in need of non-medical face masks or know of one, please email customercare@aftco.com.
Agencies Served & Feedback
The opportunity to provide these masks has inspired our employees and provided a sense of purpose to help wherever we can during this challenging time. The overwhelming positive feedback we have received has bolstered our camaraderie with so many fellow Americans.
In addition to retail stores and local businesses, we have shipped masks to agencies on the frontlines of serving our communities - predominantly police and fire departments across the country. These are some additional organizations we have worked with to coordinate mask donations:
The Department of Natural Resources
Hospitals
City & County Emergency Operations
Health Care Agencies
Homeless Shelters
Churches
Beach Patrol Units
Food Pantries
Port Police Units
Medical Offices
Domestic Violence Shelters
Water Treatment Facilities
Senior Living Facilities
Native American Tribes
Marinas
Youth Shelters
Restaurants
Fishing Teams
We would like to share some of the positive responses we have received:
"We are so very grateful to AFTCO and their retail partner SCHEELS for the donation of 10,000 surgical face masks for our staff. The masks, as well as other personal protective equipment is hard to come by. Your donation will really make a huge impact in regard to safety and health, for our residents and staff, thank you."
- Eventide Senior Living Communities
"The Orange County Health Care Agency would like to acknowledge your generous donation of the 3,000 Surgical Face Masks. These vital medical supplies will assist our agency in responding to the COVID-19 emergency in Orange County. The Health Care Agency appreciates your organization, and its donors, for this donation which will further our efforts to protect the first responders and medical staff responding to this COVID 19 emergency."
- OC Health Care Agency
"As the Tribal Chairman of the Coushatta Tribe of Louisiana, it's with incredible gratitude I thank you for the generous contribution of 100 face masks to the Tribe. During these challenging times, and limited commercial resources, the efforts of selfless companies like AFTCO to provide these critical items to our first responders, health care providers, and others in needs, truly defines the unshakable American spirit."
- David Sickey, Tribal Chairman
"AFTCO is extremely grateful to the dozens of retail partners that have supported this program. Our retail partners Mark and Susan Anderson at Eagle Eye Outfitters have distributed 372 AFTCO masks around their local community in Dothan, Alabama, supporting at least seven local organizations like The Harbor, Dothan Rescue Mission and more."
- Jim Whitten, AFTCO Sales Team
"Thank you AFTCO for donating masks for our officers! We truly appreciate it! We'd rather be fishing, but that will have to wait!"
- National City Police Department