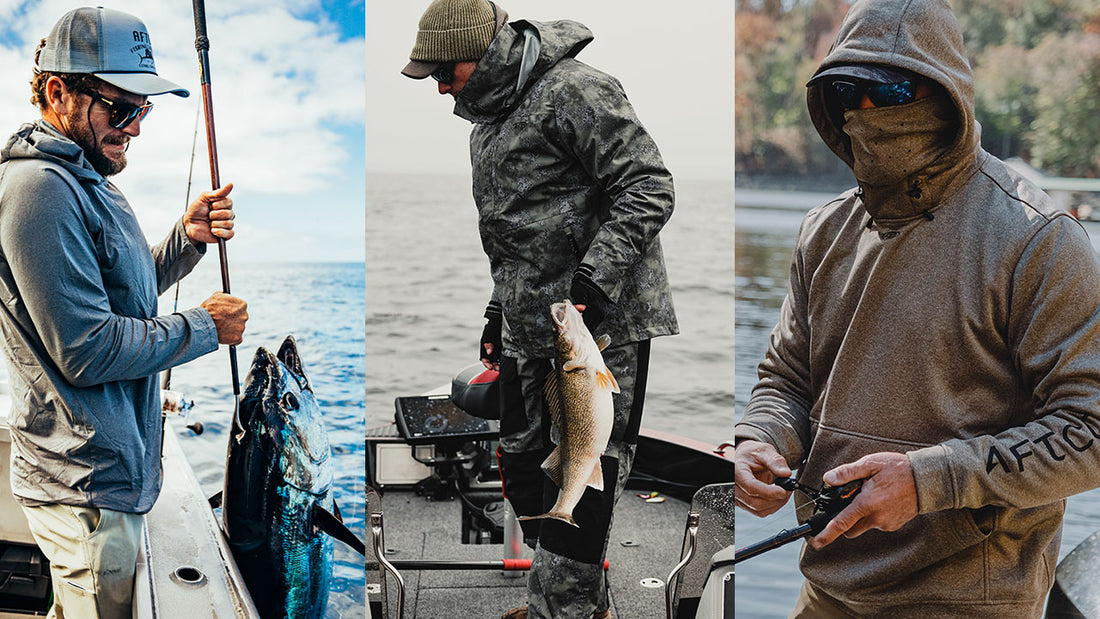 The AFTCO Pro Team puts our gear to the ultimate test. Check out some of their top picks for this holiday season.
Barricade Jacket
"The suit keeps me warm and dry when I run into foul weather out on the water thanks to high-end features." — Josh Woodward, Guide
Barricade is built with high-end features at a competitive price, offering durable 3-layer construction, 20K waterproofing, 15K breathability, and more!
Reaper Technical Sweatshirt
"Chilly weather got you down? Look no further. The Reaper is my favorite hoodie for keeping warm in colder temps." — Gerald Swindle, Bassmaster Elite Pro
Designed with a toasty microfleece fabric and integrated face mask, Reaper is ideal for those chilly mornings on the water. Whether worn standalone or as a crucial layering piece, it's the go-to when warmth is paramount.
Samurai Sun Shirt
"Samurai is my go-to sun shirt. It keeps me cool and dry in the heat of the sun." — Ryan Griffin
Our best-selling UPF 50 performance shirts should be a staple in every angler's clothing arsenal. Built with advanced quick dry properties, stain resistance, and an antimicrobial treatment to keep you feeling fresh during those long, warm days on the water.
The Original Fishing Short®
"These shorts are the best. They've got a lot of storage, including a pliers pocket. The stain resistant finish is a must for long days of fishing." — Capt. Andy Piland
The World's Most Popular Fishing Short
The Original Fishing Short® was built with comfort, durability and movement in mind. The classic fit offers slightly more room through the hips and thighs with a wider leg opening. Seven functional pockets including a pliers pocket ensure ample storage. Available in two lengths and 15+ colors.
Saiko Pro Fluoro
"The toughest and most abrasion resistant fluoro we've ever used, which is a huge advantage fishing oil rigs off the coast of Louisiana." — Eric & Moe Newman, Journey South Outfitters
Saiko Pro is a 100% custom formula fluorocarbon made in Japan for optimum leader performance. Features a supple yet hard finish that provides supreme abrasion resistance—up to 20% stronger after abrasion than leading competitors. The knot and crimped strength of Saiko Pro is unmatched, and the line will generate bites from finicky tuna, billfish, and inshore species when the other brands get refused!
Backpacks & Bags
From local missions to multi-day trips, we've got you covered.