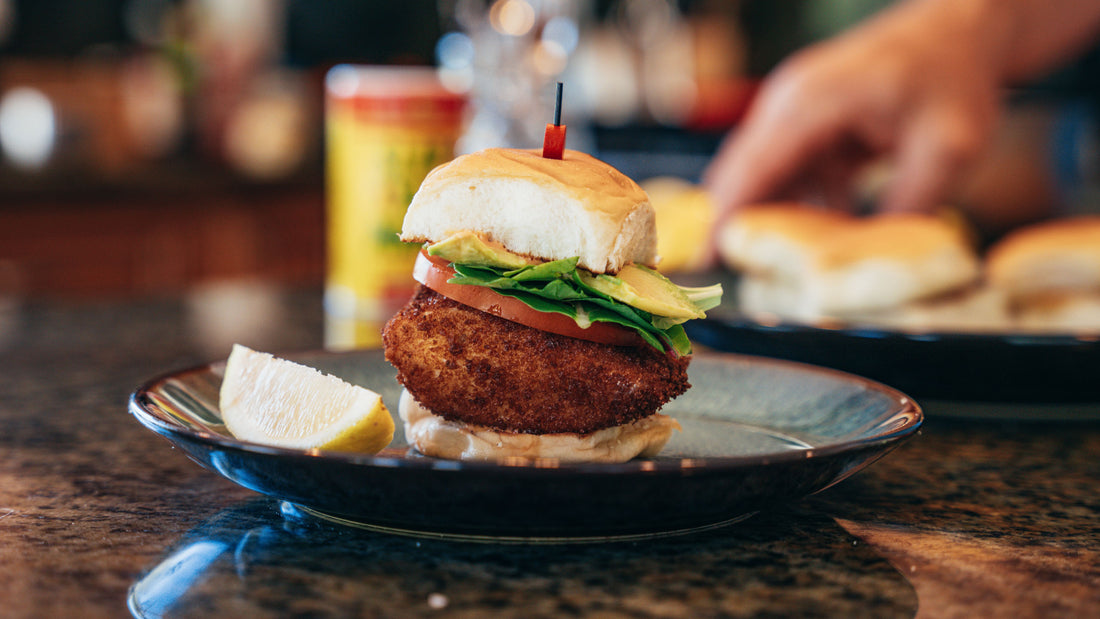 Mahi Mahi Recipe: Sliders on King's Hawaiian Rolls
One of Ryan Griffin's favorite and simplest meals to prepare, whether he's looking for a boat lunch or appetizers for a get-together, is sliders on King's Hawaiian sweet rolls with fresh mahi mahi. They're relatively quick to prepare, and few people will turn down one – or several – when they're offered.
1. Preparing the Ingredients
He starts off by making a spicy mayo, and then refrigerating it as he works on the fish to let the flavors combine. It's generally an "eyeball" process, but he starts off with about a cup of mayonnaise. Then comes the heat: "Don't be stingy with the Sriracha," he said, noting that he works in about a quarter cup of it per cup of mayo. Next, he adds a splash of soy sauce, a splash of mirin, and the juice of half of a lemon. The acidity balances the sweetness of the mirin. The final ingredient in this step is a liberal amount of sesame oil. Then stir: "It's best with a whisk. Don't use a fork, don't use a spoon." Next, it's time to adjust the ingredients to taste, and to make sure that it's thick enough to stay on the bun. Finally, add "just a little bit" of sweet chili sauce, which adds depth.
2. Preparing the Mahi Fillets
With the mayo in the fridge, he squares off pieces of center-cut mahi fillets to fit the rolls and gets his cast iron skillet going with a liberal amount of peanut oil, which has a high heat point. But before all this, watch how he fillets his fresh caught mahi in his "How to Fillet Mahi Mahi" video.
He makes a mixture of rice flour and his preferred spices – some days it's Cajun, other's just salt, pepper, and garlic – and coats the fish on all sides. The raw fish has enough moisture to retain the flour mixture.
Next, he gets his egg wash ready, and using a fork places the mahi pieces into the egg wash until they're completely coated before letting the excess drip off. The final addition is panko – just about any version will do – and he once again evenly coats the fish, then gives the pieces "a good shake" to remove the excess.
3. Cooking the Fillets
He prefers to fry the fish at a temperature of approximately 350 degrees, and notes that it pays to be vigilant because "everything happens quickly." It's both science and art. He allows the color of the coating as it fries to be his guiding light. Once the fish is perfectly brown, he puts the pieces on a rack to dry, which allows the oil to drip off and the meat to cool evenly.
4. Putting It All Together
Now comes the second pan, to which he adds a dollop of butter and then toasts the rolls. Once they have the desired amount of crispness, he sauces them up with his cooled mayo, puts the fish on, and tops them with slices of tomato, lettuce, and scoops of avocado.
They're ready to serve! If you enjoyed this recipe, check out Ryan's Bluefin Tuna Poke recipe.
Ingredients
Spicy Mayo
1 cup mayonnaise
1/4 cup Sriracha
1 teaspoon soy sauce
1 tablespoon mirin
1/2 lemon juice
1/4 cup sesame oil
3 tablespoons Mae Ploy sweet chili sauce
Whisk all ingredients thoroughly until combined into a smooth and creamy sauce, then refrigerate to allow the flavors to blend.
Fish Prep
2 pounds fresh Mahi Mahi
King's Hawaiian Rolls
1 cup rice flour
1 teaspoon Slap Ya Mama seasoning
3 eggs
2 cups panko
1-2 cups peanut oil (depending on skillet size)
Lettuce
Tomato
Avocado