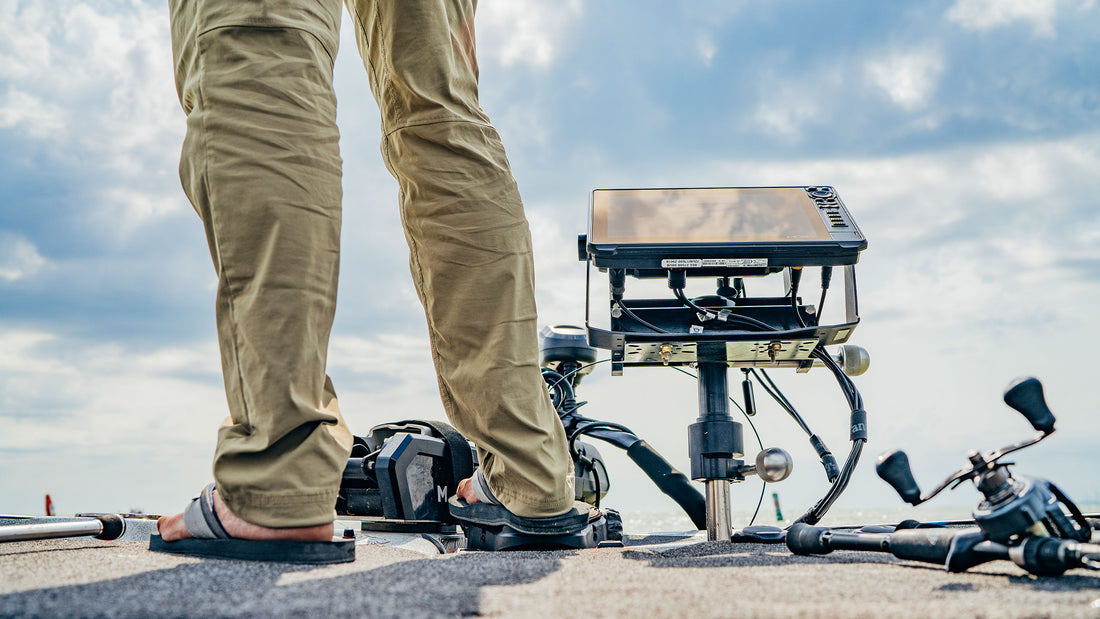 Why Professional Anglers Need Forward Facing Sonar
Oklahoma pro Matt Pangrac has a schedule full of media duties, professional obligations, and nine Bassmaster Opens. Despite that, he still uses all his free time to improve his bass game. Pangrac never stops learning or obsessing about America's most popular gamefish. Surprisingly he's becoming a better bass angler primarily by chasing crappie.
"I've always been a guy who just loves to fish."
One thing Pangrac didn't mention is that he does everything with purpose. "The more you fish, the better you get. I played hockey in college, and fishing is like any other athletic endeavor. You must keep your skills sharp. I've been able to fish 3-4 times a week the last few winters, but it's down to once a week this winter."
With the time crunch, Pangrac has turned his focus to forward facing sonar. As a media figure and confidante of many top pros, he's seen how the new technology changes the game and doesn't want to fall behind.
What is Forward Facing Sonar?
Forward facing sonar allows anglers to see what's ahead of their boat, including the fish in the water and how they respond to their lures in real-time. To make this possible, it has a transducer that shoots a beam forward or downward, allowing anglers to see the structure and fish in that direction. Forward facing sonar gives anglers a major advantage because they can see the cover on their screen and make quick adjustments. For example, if an angler notices a brush spot with bass swimming in and out, they can cast a quick drop shot and watch the bass swim out and eat it. Anglers can use this new technology to easily locate fish and entice them to bite. Overall, forward facing sonar is changing fishing at the highest level.
Tournament Fishing Without Forward Facing Sonar is a Massive Disadvantage
"Right now, you're at a massive disadvantage if you only have two-dimensional sonar or down-imaging. Covering the sport full-time, I've seen these trends. It reminds me of when I first got into the industry with side-imaging just coming out. After covering the Elite Series and going to every event, I saw the massive advantage it provided."
Pangrac leaned on his connections to help him get started. He also spent time in the boat with sonar specialist John Soukop from The Bass Tank, watching him use his tools. Then Pangrac noticed in veteran pro Scott Martin's YouTube videos how reliant Martin had become on forward facing sonar. Most importantly, he observed that Martin "never made a cast where his trolling motor wasn't facing." Prepping for the biggest tournament of his young career at the Toyota Series Championship on Lake Cumberland, Pangrac spent $2,400 out of pocket to enter the forward facing game. His instincts were spot on, and he ended with a third-place finish and a $20,000 check. Pangrac's success with forward facing sonar sealed the deal, but there's always more to learn.
Why Does Pangrac Chase Crappie More Than Bass?
Pangrac's primary reason is that "you can get much more feedback." But that's not all: "It's fun, relaxing and you can do it with a buddy, which takes it back to the enjoyment factor. It's different, but still a fish, and they're delicious."
The wintertime behavior of Oklahoma crappie doesn't necessarily carry over to how the bass will act in Florida, Virginia, or New York several months later. However, it trains his mind and helps build muscle memory. When the crappie move from day to day, week to week, or bite at a different time, Pangrac figures out how to relocate them and get a bite, a critical skill for any angler. Most importantly, he does this when he doesn't have the added pressure of a time constraint or covering his entry fees. Spending time chasing crappie helps Pangrac prepare for the road and enjoy time on the water away from distractions.
Bass Can Be Isolated in Places You Don't Expect
"The biggest thing I've learned is that big bass are not always on what you would consider 'the juice," he said. "I'll see singles isolated 40 feet from the brush pile, bass that you would generally consider 'co-angler fish.' They're still relating to the cover or structure, but they're often holding off to the side of it. The ones to the side often seem to be more aggressive. They slide out to feed."
Pangrac knows that a fast start is key to a good season on the water, and a bad day or two can lead to a lost season at the Opens level. "Over the years, I've seen certain guys who suck in Florida," he said. "Every tournament counts the same, so starting in midseason form is critical. The guys who suck often blame the fish, saying that they left them, but the guys who do well are the ones who can adjust. Small changes are the difference between catching one fish and leading the tournament."
Forward facing sonar gives anglers the possibility to overcome these challenges. It's allowed Matt Pangrac to shorten his learning curve on the water and understand why most pros have a forward facing sonar system on their boat.