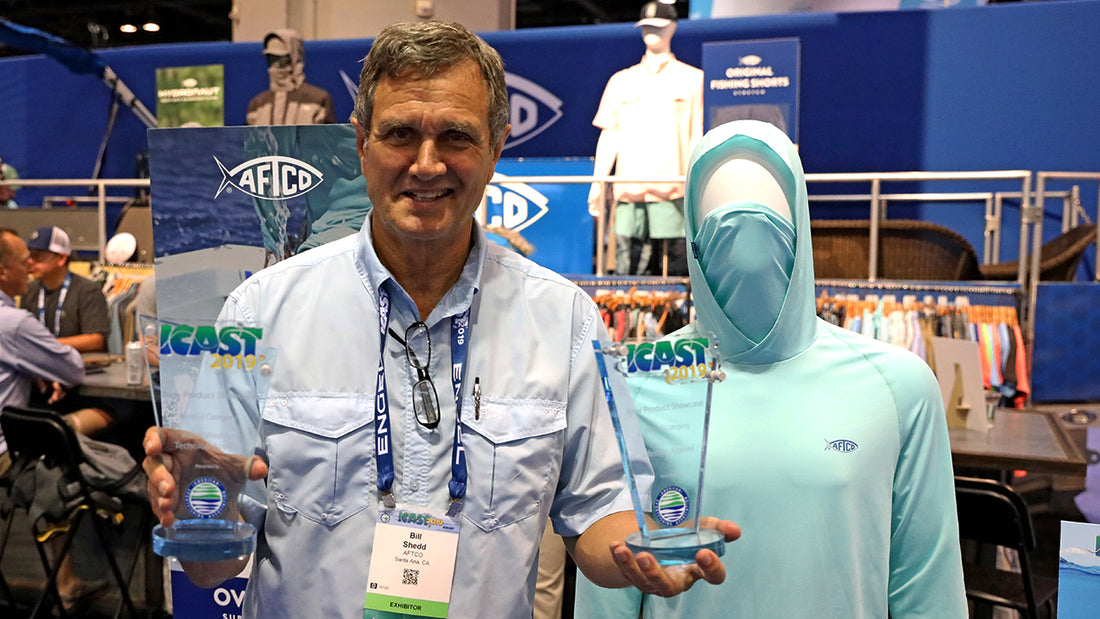 Back to Back ICAST Winners
AFTCO continued its success at the 2019 ICAST show with Best of Category wins in both the Technical Warm Weather and Lifestyle Apparel categories. Over the past 2 years, AFTCO has won 4 out of the 5 New Product Showcase awards in the apparel categories, solidifying our place as the leader in technical innovations within the fishing apparel category. See AFTCO's award winning products below.
Overboard Submersible Shorts - Best Technical Warm Weather Apparel
Last year, AFTCO proved to have the best fishing rain gear with our Hydronaut Waterproof System. We took the "staying dry" concept a step further this year with the Overboard Submersible Fishing Shorts.   AFTCO was awarded the Best of Category for Technical apparel warm weather with the industry's first ever pair of submersible pocket fishing shorts. Overboard features an integrated waterproof / submersible roll-top pocket. Built to keep your valuables safe whether you are in or on the water, AFTCO's new Overboard fishing shorts were developed to push the boundaries of technical fishing clothing innovation. Overboard is packed to the gills with features like AFLITE ultralight fabric, AFLEX 4-way stretch, AFGUARD stain resistance, Cordura® lined pliers pocket, 21" outseam, 10" inseam and an active fit.
Yurei Air O Mesh Performance Shirt - Best Lifestyle Apparel
Let's be honest, sometimes your favorite fishing t-shirts or even mesh panels on a performance shirt just don't cut it. That's why AFTCO developed Yurei with Air-O-Mesh super breathable fabric throughout the entire shirt. Yurei provides all day comfort, breathability and sun protection. Yurei Air-O-Mesh fabric combines AFBLOCK UPF 40 sun protection with AFCOOL quick dry moisture wicking properties, all in a subtle yet clean look. No longer do you need to change out of your extra technical shirt to go out to dinner. Marrying AFTCO's cutting edge tech, with a modern styling won AFTCO its second Best of Category award in the Best Lifestyle Apparel.