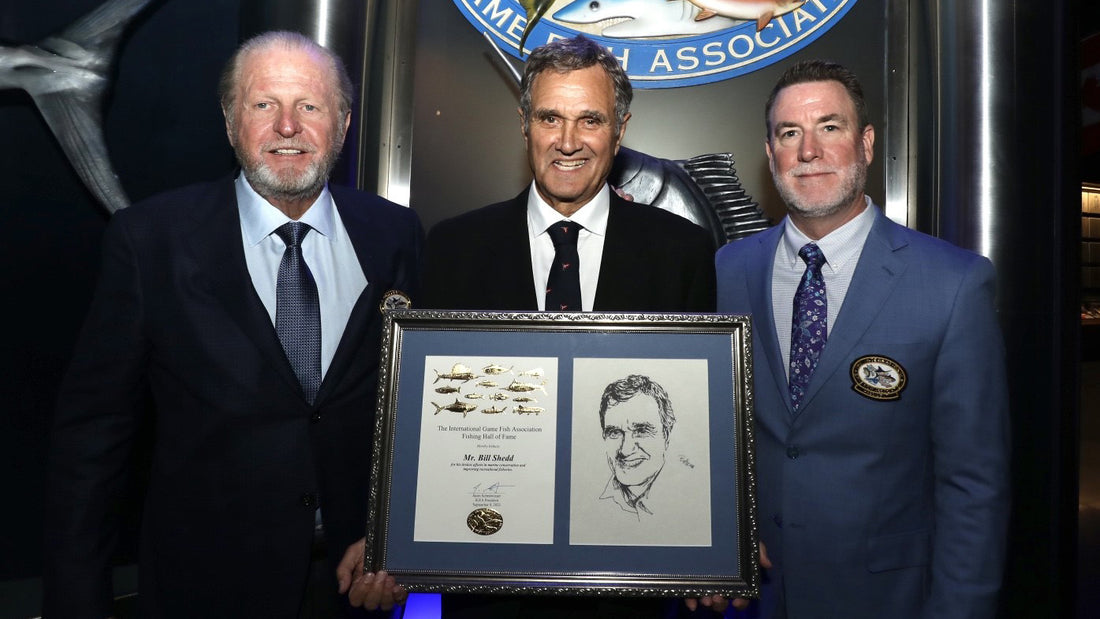 Bill Shedd Inducted Into the IGFA Fishing Hall of Fame
AFTCO's Bill Shedd was inducted into the 2023 IGFA Fishing Hall of Fame for his significant contributions to fishing conservation and pioneering innovations in fishing tackle and fishing apparel. Bill is the first child of a IGFA Hall of Fame member to be separately inducted as his father Milt Shedd entered the Hall of Fame in 2006.
The 2023 IGFA Hall of Fame class induction ceremony took place at The Johnny Morris Wonders of Wildlife National Museum and Aquarium in Springfield, Missouri.
Championing Fishing Conservation
Bill Shedd has volunteered over 15,000 hours to conservation projects, spending 400-500 hours every year for more than 35 years on marine conservation and sportfishing industry issues. Bill is known for co-founding United Anglers of Southern California (UASC), where he led that group's efforts to develop the white seabass grow-out facilities to support the hatchery and played a key role with UASC in the effort to eliminate set gill nets in California. Bill played a key role in eliminating the experimental mako shark longline fishery in California. In 1989, Shedd started the AFTCO TAG FLAG and later championed tag and release fishing. In addition, Bill has been a vocal advocate for the protection of fishing access for all recreational anglers as passionate stewards of our marine environment. Bill is often quoted as saying that recreational anglers are the original stewards of marine resources in the modern conservation era.
Bill serves as Chairman of the Board of Directors of the Coastal Conservation Association of California (CCA Cal) and the Hubbs-SeaWorld Research Institute (HSWRI). He also currently serves on the boards of the International Game Fish Association (IGFA), Center for Sportfish Policy (CSP), and California Artificial Reef Enhancement program. In addition to his current roles, Bill previously served for seven years on the Board of Directors of the American Sportfishing Association (ASA) and was Chairman of the ASA Government Affairs Committee for three decades. Bill also served on the board of United Sport Fishermen (USF), the Guy Harvey Ocean Foundation (GHOF), as chairman of California's Ocean Resources Enhancement and Hatchery Program (OREHP), and on the NOAA Marine Fisheries Advisory Committee (MAFAC).
Bill has received numerous conservation honors throughout his career, including from the American Sportfishing Association, the Center for Sportfishing Policy, the International Game Fish Association, the Coastal Conservation Association, and United Anglers of Southern California.
"Let's always remember we are the original fish conservationists. Our history, passion, leadership, results, and some $1.5 billion contributed yearly to support healthy fish stocks give us the right to aggressively fight for the future of sportfishing and for the fish." — Bill Shedd
A Father-Son Legacy 
Bill's name is synonymous with fisheries conservation in the U.S. and part of a legacy passed down by his father Milt. Bill is the AFTCO Chairman and CEO, positions previously held by his father. AFTCO was purchased by Milt in 1973 and Bill later built AFTCO into the company it is today. Watch Milt Shedd's 2006 Hall of Fame induction bio here.