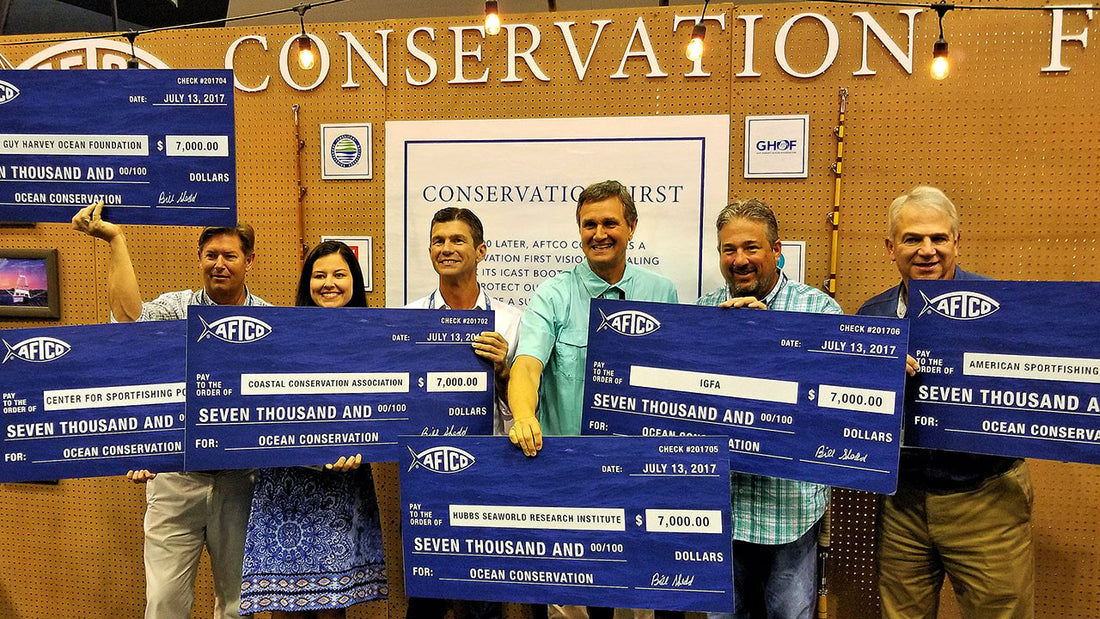 $42,000 Later - AFTCO Places Conservation First
ICAST – the world's largest fishing tackle trade show – is where the industry meets every July. In an unprecedented move, AFTCO reimagined their presence at this year's event by donating the funds that would usually be spent on a large show display and its corresponding logistics expenses.
With this vision of conservation first, the nearly 60-year-old company reallocated $20,000 of ICAST tradeshow expenses back to conservation and angler rights issues. With an additional $22,000 match, AFTCO felt the $42,000 total contribution could be used to once again highlight and support the issues and organizations that are important to recreational anglers.
AFTCO's reimagined "minimalist" trade show booth is a perfect example of the company's ethos. Projects like this are at the core of AFTCO's DNA. With a legacy of leadership in marine conservation efforts -- inspired by prior company Chairman Milt Shedd's passion for the sea -- AFTCO takes great pride in its tradition of unwavering commitment to help protect and conserve our ocean resources.
In fact, every year since 1973, AFTCO and the Shedd family have contributed more than 10% of company profits to help protect our ocean resources and ensure a sustainable fishery for future generations. In 2016 more than $475,000 was contributed, which included more than $240,000 of financial contributions to the Guy Harvey Ocean Foundation, $150,000 to the Hubbs SeaWorld Research Institute and $110,000 collectively to the American Sportfishing Association (ASA), Coastal Conservation Association (CCA), Center for Sportfishing Policy (CSP), International Gamefish Association (IGFA) and other Sportfishing organizations and efforts.
These funds, along with time and leadership from AFTCO team members, helped to support tagging efforts, fish hatcheries, artificial reefs, marine research projects, angler access to the fishery and insuring that sportfishing interests are heard by fishery managers and legislators.
The $42,000 raised through this year's ICAST was presented at the show to GHOF, Hubbs/SeaWorld, ASA, CCA, CSP and IGFA in the form of $7,000 checks to each organization. These amounts are in addition to funds and time previously committed to each organization for 2017.