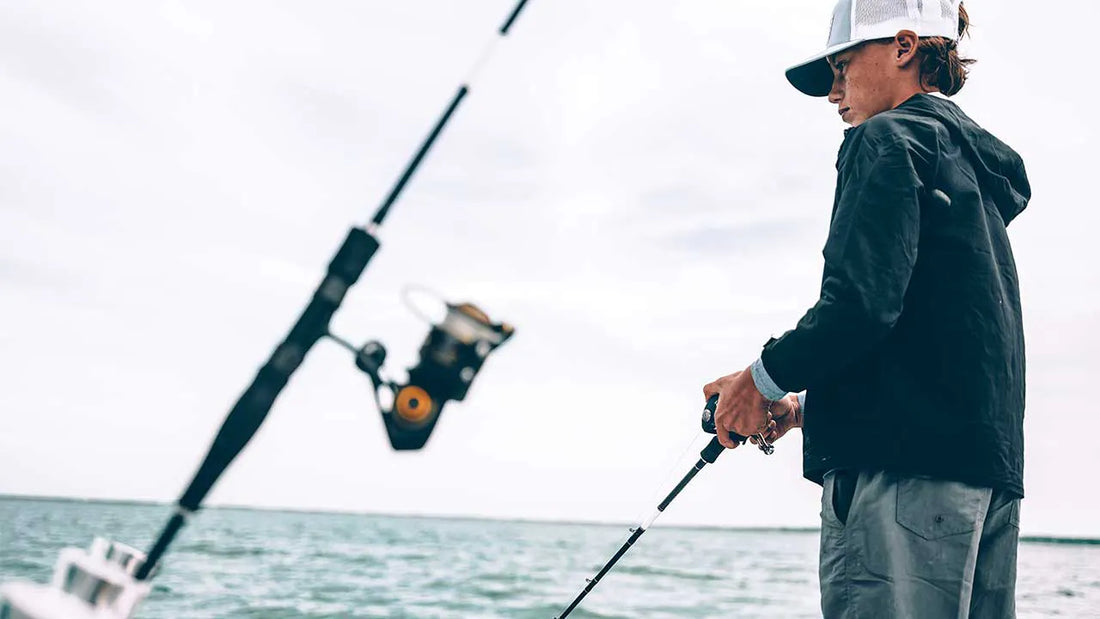 5 Fishing Tips for Beginners
The fishing community continues to grow as people new to the sport or re-discovering the sport find that fishing is a fun way to get outside and enjoy the great outdoors. If you're a beginner that's looking for some tips to get a jumpstart into sportfishing, check out these 5 tips to get off to the right start fishing.
Tip #1: Get Familiar with Local Fishing Regulations
It's you're responsibility to know before you go! For most states, there are fishing license requirements that you need to adhere to so make sure you do your research or visit a local tackle shop or fishing tackle retailer to inquire about a fishing license. Most states also offer online license sales. Fishing without a license runs the risk of getting a large fine, so make sure you have your ducks in a row for licenses or permits to fish your local waters. Take Me Fishing provides a useful tool below to easily purchase a fishing license for the state you will be fishing in.
Once you have a fishing license, it's also important to familiarize yourself with the state's general fishing regulations. Each state provides resources to learn what species you may be able to catch, specified size limits, slot limits, bag limits, bait restrictions, and other specifics that pertain to various waterways. It's your responsibility as angler to be aware and abide by these regulations.
Tip #2: Fishing Rods and Reels for Beginners
If you're just getting started in fishing, we recommend that you focus on either a spincast fishing combo or a spinning setup. A spincast fishing rod and reel is the easiest way to start fishing and is recommended for kids or first-timers. Spincast reels are a simple push-button reel that alleviates any tangles. Simply push the spincast button, then make a cast. To engage the reel, just turn the handle and reel in that fish! On the other hand, a spinning rod and reel setup is still great for someone starting out in fishing, but it requires some practice and mechanics to understand how to make a cast. When making a cast with a spinning setup, you grab the line with your index finger, open the reel bail, then make a cast allowing the line to flow off the spool. Once your bait or lure hits the water at the optimum depth, you can then close the bail to engage the reel. Although there is more involved with a spinning setup, it would be recommended for most users for its better overall versatility compared to a spincast combo.
Tip #3: Live Bait or Artificial Lures? 
Now that you have your fishing license and tackle in check, the age-old question of "what bait do I use?" comes next. There are essentially two options: live bait or artificial lures. Live bait can consist of nightcrawler worms, meal worms, shad, minnows, or crayfish in freshwater. On the saltwater side, live bait options can be pilchards, pinfish, croakers, sardines, menhaden, anchovies, squid, or shrimp. All of these are great options depending on the species you are going after. However, you will need to catch the bait yourself or purchase it from a local bait shop. If you decide to fish with arificial fishing lures, you can go right to your fishing spot with some baits ready to fish. Some good ariticial lures include soft plastic swimbaits, grubs, jerkbaits, or minnows. You can rig these on a jig head and get to fishing. You can also fish hardbait lures like jerkbaits, lipless crankbaits, topwater plugs, or metal jigs. Artificial lures can simply be casted out and winded in to impart action or you can mix-up your retrieves and use a jigging presentation that creates an erratic darting action.
Tip #4 Sun Protection Clothing
When you're out on the water enjoying the outdoors, sun protection is a necessity to be able to fish comfortably throughout the day by staying cool and protected from harmful UV rays. Making sure you wear sunscreen and reapplying is essential. If you do not want to deal with sunblock, good sun protection shirts, sun protection gloves, and fishing sun masks / gaiters is the answer to staying comfortable, dry, and protected from the sun's harmful rays. Not only is protecting your body important, but your eyes as well. Make sure you have a good pair of sunglasses to protect your eyes on and off the water. UPF 50 sun protection shirts block 98% of the suns UV-A and UV-B rays, making it more protective than SPF 50 sunscreen. Make sure you read our blog on how to choose sun protection clothing to learn more about the benefits of fishing sun protection clothing.
Tip #5 Find a Fishing Spot & Go Fishing
Once you have your new rod, reel, baits, and fishing clothing, it is time to go fishing! The biggest tip for fishing is practice, practice, practice. Whether you are "baiting and waiting" with live bait, or tossing artificial lures around in your local lakes, rivers, or the coast, the best way to get better at casting and have more chance of catching fish is by getting out there. If you plan to go freshwater fishing, check out our Freshwater Fishing for Beginners guide for more detailed tips, but if you are closer to the coast, specific saltwater fishing tips apply. Visit our Saltwater Fishing for Beginners guide for more detailed saltwater fishing tips. If it's a kids first time fishing, don't put too much empashis on catching fish. Focus on the fun and nature experiences that the great outdoors has to offer. If your little one appreciates the time on the water as much as you do, they will be hooked for life and you'll have a fishing buddy whenever you need one. Teaching them about nature, birds, insects, and the water is a great way to keep them engaged while waiting for that big bite.
Find Places to Fish