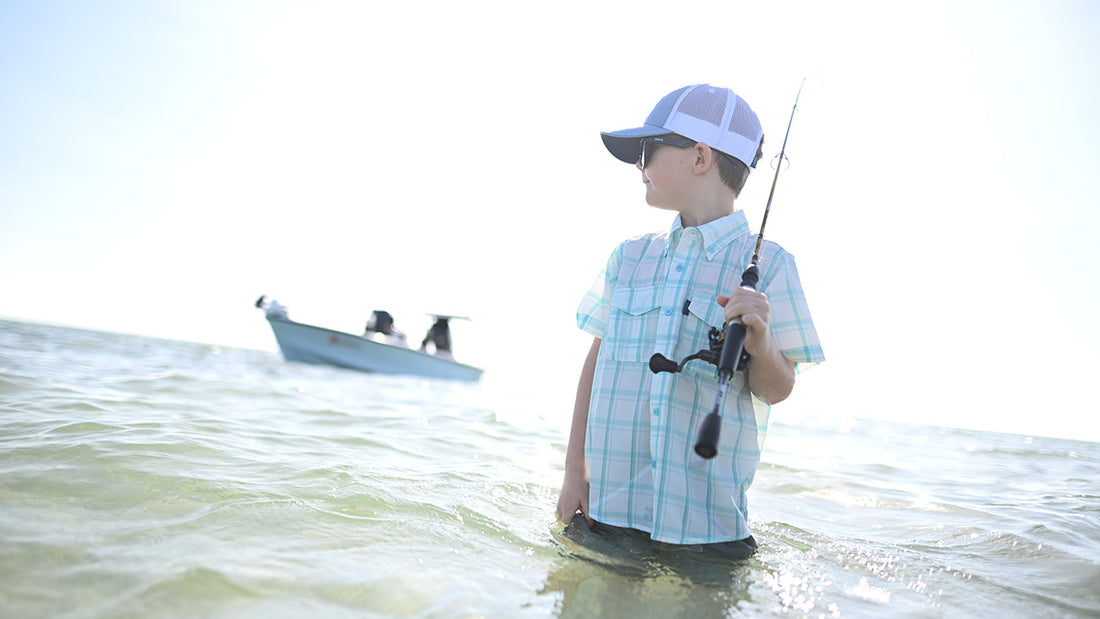 Saltwater Fishing For Beginners
If you are closer to the coast, saltwater fishing may be your introduction to fishing. Our oceans provide many exciting opportunities for beginners looking to get started fishing. We believe that in this journey you will find a joy that goes well beyond catching fish and includes time on the water with friends and family and a true connection back to our resource. Before going further, if you're looking for general fishing tips and recommendations we suggest you also check out our more general guide to fishing for beginners. While location, gear and more varies greatly by fishery and should rely heavily on local knowledge, below we have provided some simple recommendations for getting started regardless of where you are fishing.
Overview: Saltwater Gear Set Up For Beginners
Rod: 7-foot medium heavy rod
Reel: A 3000 size reel
Line: 20 LB mono
Bait: Live bait or soft plastic from local tackle store
Saltwater Gear Check: Rod & Reel
Getting started saltwater fishing is very similar to freshwater fishing, but there are so many more species you can target. Whether you are on the east coast and you are targeting stripers, small tarpon and snooks, or you are on the west coast fishing for inshore sea basses, surf perch or halibut, the right fishing rod and reel are key. A good fishing rod for beginners is a 7-foot medium heavy rod with a 3000 size reel and 10-30 lb test. A little bit heavier line is sometimes needed for larger fish in saltwater, and provides saltwater fishing beginners a little extra help.
A saltwater spinning reel is the preferred weapon of choice for new anglers.
Saltwater Fishing Line - Get Started With Mono
To complete your saltwater fishing setup for beginners you'll need the right fishing line. Our recommendation is that you start with a good 20 lb. monofilament line. Often referred to as mono, many saltwater beginners find that monofilament is easier to cast, helps avoids tangles and is highly versatile. It's AFTCO's recommendation for beginners.
After you've mastered mono you can look to upgrade to braid. Our suggestion would be to start with 20 lb braid, and 15 lb AFTCO fluorocarbon leader (often referred to as fluoro) in color clear as your leader line. As with most things in fishing, line selection will ultimately come down to the target species, water clarity, surrounding structure and a number of other factors. If you're looking for a more thorough review of fishing line types for saltwater, we suggest reading Take Me Fishing's Best Saltwater Fishing Line Types. Again, we stress that you keep it simple and get started with a good mono line.
How To Cast A Spinning Reel?
To cast a spinning reel, you want to use your pointer finger to grab the line and hold the line while opening the bail. Pull the rod back to rotate over your dominant shoulder and swing forward making sure to point the rod at your desired target. As you swing the rod, release the line with your finger. This will take some practice to get the timing right to get maximum casting distance. The momentum of the bait as you swing the rod is what pulls line off your reel and making sure the right movement, timing of release and rod position is critical to get a good cast. It's okay to take a bit to get used to casting. It may not seem like it, but every person just starting out fishing does the same thing. Practice makes perfect, and even then, professionals will occasional "wiff" a cast. Looking for more details on how to cast? Check out Take Me Fishing's
How To Cast.
Saltwater Fishing Basics: What About Bait?
Choosing good baits for saltwater fishing provides nearly endless opportunities. In freshwater, a bass is a bass and they eat similar forage across the country with slight geographical difference. In saltwater, a fish on the West Coast will eat something completely unique from a fish on the East Coast. Even if they are the same species. Take the
striped bass
for example. On the east coast, the best way to catch them is using live American Eels. These are only found on the Atlantic coast though so on the west coast these fish are predominately eating finfish native to the Pacific Ocean. So, the best way to find lures or live bait to throw in saltwater is to find a local tackle store, and look at their live bait options, as well as their lures. Many tackle shops only keep inventory of lures and live bait that are used to catch the fish in your area. Good choices may be bait such as anchovies, bloodworms, shrimp, clams, and mussels.
---
Location Matters: Piers Are A Great Beginners Spot
For anyone trying to looking to get a kid started saltwater fishing, fishing piers are great spots for beginners. There are many public piers throughout the US in coastal waters that provide easily accessible fishing spots when you are lugging around lots of snacks and extra gear. Many of these public piers attract lots of species of fish and many of them reef style fishes that are perfect for beginners to get the hang of catching. When taking kids fishing, there are rigs used to catch bait fish that work well for someone just starting out. Some bait fish fight hard on light line and are fun for younger kids to pull on. Sabiki rigs are one form of these bait rigs with multiple hooks on them. If need be, cut a sabiki rig into two or three hook variants to make them easier to manage.
Utilizing A Saltwater Guide Provide Many Benefits
If you are having trouble finding areas for you to try fishing or have tried a few times and have not caught fish yet, you may want to do some research into a beginner fishing guide. Many guides are fantastic resources to teach you not only how to fish but can give you pointers on spots to try in the future.
Gear Maintenance: Be Aware of Saltwater Corrosion
One essential saltwater fishing for beginners tip is to not forget that salt corrodes metals. Many components of a fishing rod have metal in them, and the salt quickly can leave a fishing reel useless if not taken care of. After a fishing trip in the saltwater, it is critical to wash the salt off your gear before it corrodes. A simple rinse would be fine for your rods and reels, making sure you do get all the angles as well as the rod guides where there could be metal inserts. Do not submerge or leave anything soaking because the salt will stay in solution and your gear will corrode faster! With corrosion in mind, when you are buying fishing hooks, think about buying hooks that are not made of stainless steel if possible. Stainless steel has become popular because they last longer since they do not corrode. Unfortunately though, if they never corrode, then they also do not corrode inside of fish if the fish swallows a bait and you have to cut the line or if the fish breaks your line while you are fighting it. So, to make sure the fish survives with hooks in their stomachs and mouths, use hooks that do corrode and replace when needed.
Other Resources: Tackle Stores, Fishing Club's, Online Communities & Conservation Groups!
There are an estimated 13 million saltwater anglers in the US alone. All of them got started exactly where you are, at the beginning. The single best place to start is a local tackle store. They have both the gear, knowledge and staff to help answer any question you have! You can find the retailers vetted by our staff here.
There are many amazing online resources to further your learning. We suggest finding an online community local to your area. We've found BD Outdoors to be a great community for saltwater anglers on the west coast, and Salt Strong for Florida anglers and On The Water for the north east.
Finally, saltwater fishing clubs and saltwater conservation groups are a great resource to both provide knowledge and social engagement. We suggest starting with a local chapter of the CCA Coastal Conservation Association. The local chapter is a great place engage in fishing conservation and learn more about the sport. The CCA is the largest saltwater fishing conservation group and does everything from hosting saltwater fishing tournaments to habitat restoration, beach clean ups and fishing advocacy.
Have Fun & Help Conserve Our Resource!
Practicing conservation and respecting our natural resources is something that AFTCO is very passionate about. Always practice the "pack in, pack out" method never leaving behind plastic containers or trash, including soft plastic baits and fishing line. Following your state regulations when keeping your catch is paramount to preserving the resource as well. Make sure you are adhering to the size and creel limit if you decide to keep any of your catch. Most of all try to have fun and enjoy your time on the water!
As a final suggestion for anyone looking to get started in freshwater, members of the AFTCO freshwater pro team have also broken down their favorite beginner tips for freshwater and bass fishing.