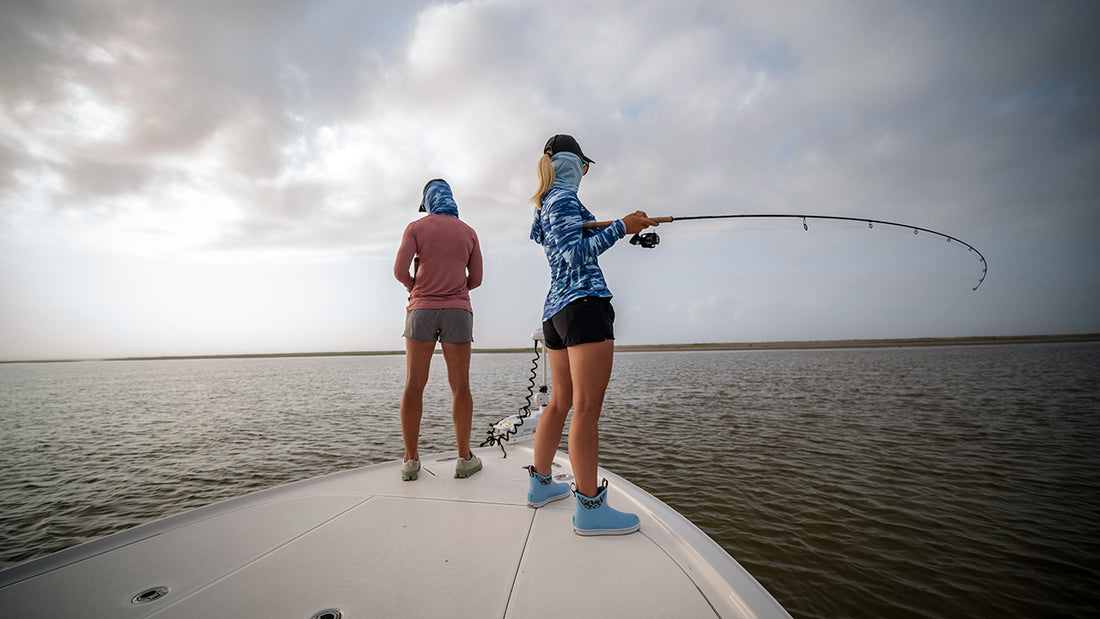 How to Fight a Fish on Light Line
With fish on the line, it's an angler's time to shine. However, when anglers fight large fish with light tackle, they must adjust their technique to land their catch. To help, Captain Eric Newman and Captain Moe Newman of Journey South Outfitters are going to walk us through their fish fighting techniques to land a large fish on light tackle successfully.
Keep the Rod Tip Down
When you get a strong bite, high-sticking is tempting, especially if you're a beginner angler. High sticking usually happens when an angler fights a big fish with their rod held high above 90 degrees. If there's enough pressure built up, high-sticking can cause your rod to snap or bust. The top sections of most rods are designed for casting, not fighting fish, which is why high-sticking can lead to busted rods.
In this video, Captain Moe Newman shows good fish fighting technique by keeping the tip of her rod low to the water. She also pulls it parallel to the water and only raises it slightly. By doing it this way, she's using the stronger back part of her rod to fight the fish.
Plant Your Feet
When you're fighting a fish, the last thing you want to do is lose your footing and your fish. Especially if it's a choppy day on the water, planting your feet in a wide stance makes a huge difference. Shoes are essential to fighting fish because you don't want to slip or slide around on the deck. To avoid that, opt for non-slip shoes or a quality deck boot. AFTCO's deck boots are 100% waterproof, with hex grip non-marking outsoles, and were an ICAST 2022 Best of Category winner. Keep your stance wide and continue reeling your line when you're chasing a fighter.
Have the Rod Loaded Up
As you continue to fight your fish, keep steady pressure on the rod to help wear down the fish. It's alright to lift or pump your rod during the fight, but don't jerk on it because that can cause your fish to come off the line. It's also important not to ease up or cause the line to slacken. Keeping your rod loaded makes you one step closer to reeling in your fish.
Follow Your Fish
With a light line, you don't want to add more pressure on the line than you have to as you reel in your catch, or else you risk breaking it off. Instead of staying in the same spot, anglers should move with their fish to avoid the line getting caught on something. As Captain Eric Newman said, "I need to get less fiberglass between me and the fish, so I need to follow him." To make it easy to follow your fish, keep walkways clear and open so you can keep your fish on the line.
Dip Your Rod
If you're following a fish and it suddenly dives beneath the boat, your best move is to dip your rod into the water. Keeping your rod tip in the water helps maintain pressure on the line and keeps it from getting stuck on the prop. With your rod in the water, start reeling quickly to gain the upper hand and successfully land your fish.
Lead Fish Head First Into the Net
If there's another angler on your boat, ask them to grab a net and stand by until your fish is in position. With your fish at the boat, lead it into a waiting net. Don't try scooping the net around the fish because it's an easy way to lose your hard-earned catch. When handling the nets, it's best practice to put the net's handle straight up and let the fish fall into it. After securing the fish, put it gently into the boat so it's protected for a smooth catch and release.
For nets, anglers should use knotless or nylon-coated ones because they are gentler on fish than hard nylon nets. Even better are rubber nets because research shows they don't rub slime coats off fish.
Releasing Fish
The best way to release a fish is to leave it in the water and work the hook out. However, this isn't always possible, depending on its cooperation and how it's hooked. When you need to bring a fish on board, hold it firmly on the deck and carefully remove the hook.
After dehooking your catch, it's time to take a picture to show off your catch. When holding your fish, keep its belly supported with one hand and hold its tail with the other. For fish like red drum, it's easy to hold it this way and show off their beautiful spots. However, this method won't work for spiny or toothy fish. For smaller, spiny fish, use a jaw gripper, and avoid holding large fish vertically because it can cause spine damage.
Fighting any fish poses a challenge to anglers, and when you're using light lines, it's crucial to make these adjustments to land your catch. To learn more about how to catch and release your next fish, check out our how-to video and blog here. Good luck to our anglers on the water, and keep successfully fighting fish on light line.