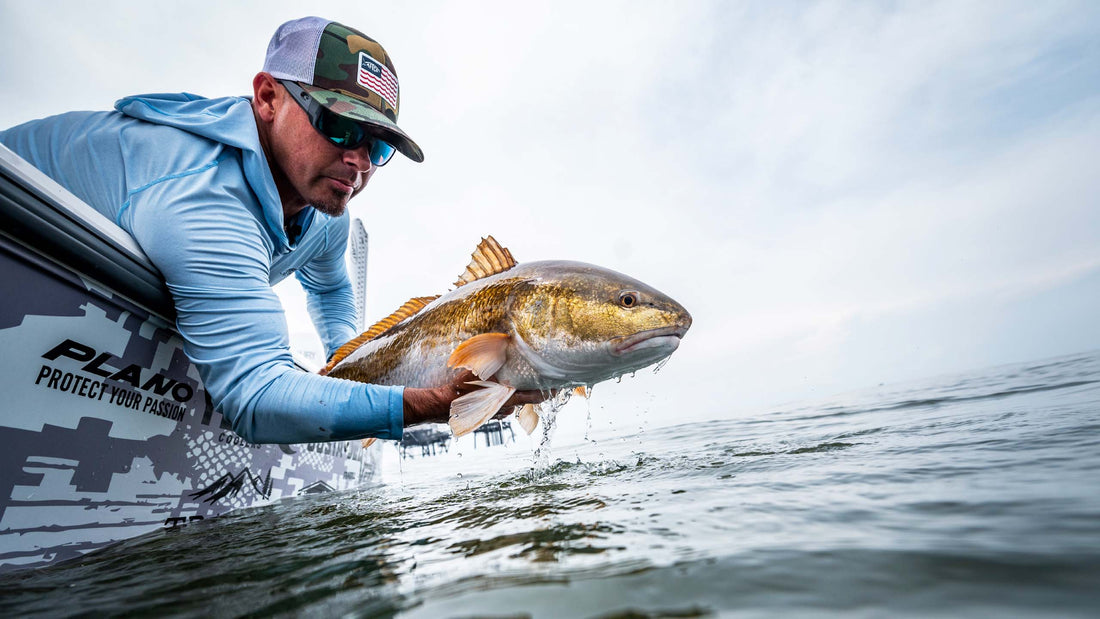 How to Handle a Fish for Catch and Release
How you harvest a fish greatly impacts the health of your catch. Captain Eric Newman from Journey South Outfitters says handling fish is all about having the right tools. Whether you plan to catch and release or harvest your catch for dinner, check out Newman's seven go-to fish handling tips.
1. Fishing Gloves
Fishing gloves serve many purposes. They help anglers keep a solid grip on their catch to avoid fish flopping on deck. Fishing gloves also protect anglers from cutting their fingers on sharp gill plates and spines. For offshore fishing, grab the AFTCO Release Fishing Gloves. These gloves feature a reinforced index finger and vented foam mesh to keep anglers' hands sweat-free while fishing. Protect your hands and catch with a pair of quality fishing gloves.
2. Dehooking Tool
A dehooker is a hook remover. It helps anglers swiftly remove the hook from the mouth of their catch. There are several different options available. Captain Newman's go-to dehooking tool has a small hook attached to the end of a 6-to-10-inch stainless tube. To operate, deploy the hook by pulling on the handle until it's around the shank of the hook inside the fish's mouth. From there, hold on to the hook tightly and push it downward to release it. Using a dehooking tool increases the survival of anglers' catches and helps them avoid hand injuries. Check out the video above to see a dehooking tool in action.
3. Fishing Pliers
Pliers are a must-have item on the water. Standard long-nose pliers are classic, all-around pliers. For saltwater anglers, Captain Newman recommends Shimano's Brutas Needle Nose Pliers. They have an 11-inch length that keeps anglers' hands out of harm's way while they work a hook out from inside a fish's mouth. If you're a saltwater angler, long pliers are better to avoid the sharp teeth of toothy species. We recommend rinsing and drying your fishing pliers with fresh water to ward off rust too. For freshwater anglers, seven-inch pliers are optimal, and store them in a dry environment to ensure long-lasting performance.
4. Fish Gripper
Fish grippers are a multipurpose tool designed to make anglers' days on the water easier. This tool has two aluminum arms that latch around the fish's lips and help hold them in place. Fish grippers give anglers control over their catch and help keep their mouths open, allowing anglers to remove stubborn hooks caught inside. Newman said, "It's also useful for fish revival. With the gripper tool clamped in the fish's mouth, you can help it swim until it kicks, then release the gripper."
Plastic and stainless-steel fish grippers are available in several traditional styles like pistol grips, floating grips, and T-style grips. Fish grippers are available for purchase at fishing retailers like Bass Pro Shops. When using a fish gripper, try to hold fish horizontally whenever possible, specifically larger fish over two pounds. If fish are held vertically for too long, it can cause damage to their internal organs. Other than that consideration, fish grippers are an excellent tool for anglers.
5. Boga Grip Scale
The Boga Grip is made of metal with a built-in scale, making it optimal for catch and release. It is tube-shaped with a handle and scale on one end and a pair of jaws on the other. Its accuracy and durability set it apart because Boga Grip scales have certified the weight of 3,400+ IGFA World Record Fish.
To use a Boga Grip, start by holding the grip sleeve. Use your index finger or thumb to pull back the trigger sleeve to open the jaws. Place the jaws of the Boga Grip around the fish's lower jawbone and release the trigger sleeve. The jaws will lock shut, and the fish will be secure. Boga Grip has a self-closing and locking ability, allowing the angler to keep a secure grip without exerting effort. To release a fish, pull back on the trigger again. The Boga Grip is currently available in three different models. Click here to find the Boga Grip best for your application.
6. Fish Sling
For larger fish you plan on releasing, use a fish sling. These allow anglers to weigh fish in their natural horizontal position without causing damage to their spines. With fish over two pounds, holding them vertically pulls on their jaw and can injure their spines and internal organs from the tension. Using a fish sling keeps larger species like redfish comfortable and injury-free. Also, when you use a fish sling to weigh a fish, subtract the fish sling's weight before recording a final weight measurement. A fish sling provides added support for a fish during the catch and release process.
7. Measure Your Catch
If you're without a Boga Grip or a fish scale, use this hand measuring trick from Captain Newman. Start by cutting a piece of monofilament fishing line and stretch it from the fish's nose to the tip of its tail. This measurement will tell you a fish's total length. Next, use a second section of monofilament fishing line and wrap it around the fish's girth, or thickest part. When you return home, measure the two pieces, and check out a website like IGFA with weight estimates for several fish species. According to Newman, this tactic is surprisingly accurate.
These tools, combined with Captain Newman's tips, will help enhance your next experience on the water. From the initial catch to the release or harvest, AFTCO equips anglers with the right gear and knowledge to catch any fish in any water.