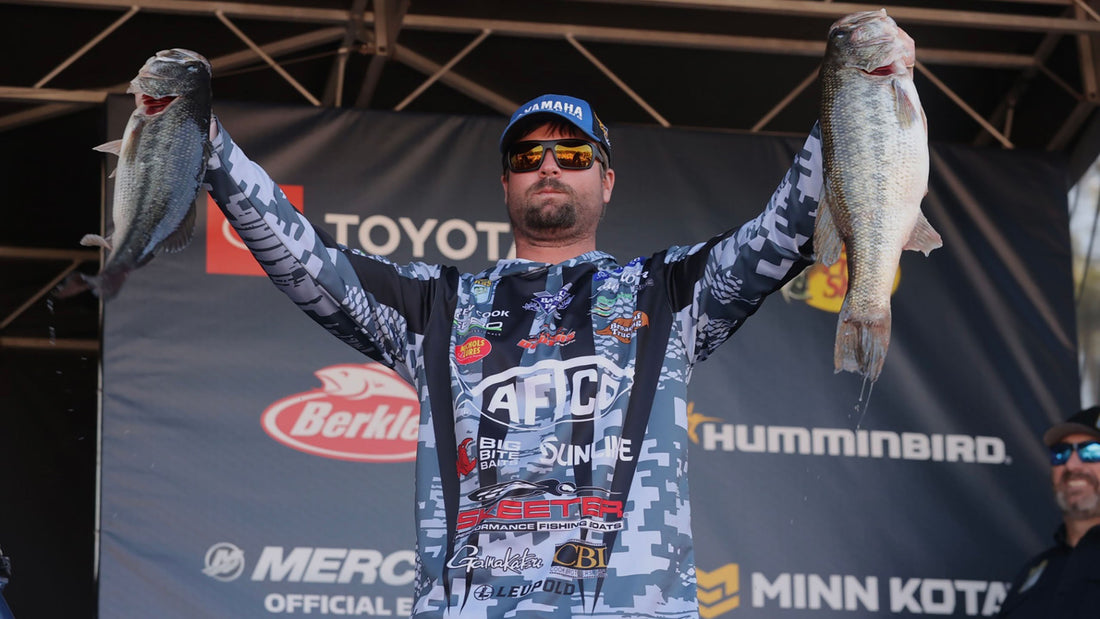 Drew Cook's Tips for Fishing Bassmaster Opens
AFTCO Freshwater Pro Team angler Drew Cook has made quite the splash throughout his four year career on the Bassmaster Elite Series. Cook earned 2019 Elite Rookie of the Year honors after notching five Top 20 finishes and three Top 10s. Since then, he has finished in the Top 20 fourteen times, including notching his first Elite Series win at Santee Cooper in 2022. Cook most recently finished 4th in the 2023 Progressive Bassmaster Angler Of The Year standings.
Prior to making waves on the Elite Series, Cook battled his way through a stacked Bassmaster Open field in 2018 to earn his way onto the big stage. We recently caught up with Drew and picked his brain to get some advice on what he would tell the aspiring Elite Series pros getting prepared to run the Opens gauntlet in 2024.
Cook's Tips for Opens Success
Learn as much as possible about the bodies of water at home prior to the season starting. Utilize any information you can locate from past tournaments, fishing reports, seasonal patterns, YouTube, etc. for that particular body of water. I'd also recommend doing extensive map study, including both topography maps as well as Google Earth. Use the tools to go back in time and look at the bodies of water during both low and high-water scenarios.

Stay away from the bank. With over 200 anglers in the field, the bank is going to get beaten up badly. Factor in 5 days of practice with everyone setting the hook, and that makes it difficult to do well strictly fishing the bank in most Opens. Obviously, there are exceptions to everything, but this is a good general rule of thumb unless it's spring of the year, the moon's right, and the fish are coming to the bank.

Focus on no man's land, the 5-9ft of water that really isn't appealing to most people. This might be a giant flat that's super intimidating to a lot of other anglers, so they just pass it by. That's where you can spend your time and find something you can possibly have to yourself. This could be individual fish on isolated stumps or something off the wall and special. When you are practicing in a scenario like this, you must be obedient by not setting the hook or even having a hook on your bait during practice. Remember, these are individual fish that you're going to come back and fish for during the tournament.

Consistency, consistency, consistency. With 9 events, it's a marathon, not a sprint. Finishing in the top 50 will get you into the Elites. Realize that even if you are in 100th place after day one, you are still in the top 50% of the field. Making the most of what you have and trying to move up a few spots, rather than attempting to be a hero and win the tournament, might make the difference in whether you qualify or not at the end of the season.
Registration for the 2024 Bassmaster Opens will open November 7, beginning with B.A.S.S. Life and Nation anglers who want to participate in the Opens EQ Division.
For more information, visit Bassmaster.com/Opens.
Attention: Opens EQ Anglers, AFTCO Bass Boot Camp is Back!
Drew Cook is recommends that all registered B.A.S.S. Opens EQ anglers seriously consider signing up for the AFTCO Bass Boot Camp. This presents a unique opportunity for anglers to shine and potentially be featured in the 2024 Bass Boot Camp YouTube series. AFTCO is offering to cover up to $18,000 of B.A.S.S. Opens EQ entry fees and provide full product sponsorship. Participants can envision the exposure and support they'll gain from this experience. Their journey through the tournament bass fishing world can be showcased in a 9-episode vlog series on the AFTCO YouTube channel, allowing tournament fishing fans to follow their behind-the-scenes adventures. Anglers shouldn't miss this chance to take their angling careers to the next level and showcase their talent. 
Apple here: aftco.com/bootcamp
Eligibility for $18,000 in Contingency Money
Also, for any anglers who are registered to fish the entire 2024 Bassmaster Opens, there's an exciting opportunity to enroll in the Best on Tour Buck$ Contingency Program. By doing so, you become eligible for a contingency bonus check of $1,000 from AFTCO and Sunline, which will be awarded to the highest-ranked registered angler following each Opens EQ tournament. Whether or not you're chosen as the 2024 AFTCO Bass Boot Camp recruit, there's still a chance for you to secure an extra $1,000 payday courtesy of Best On Tour.
Apply here: Bestontour.net/contingency