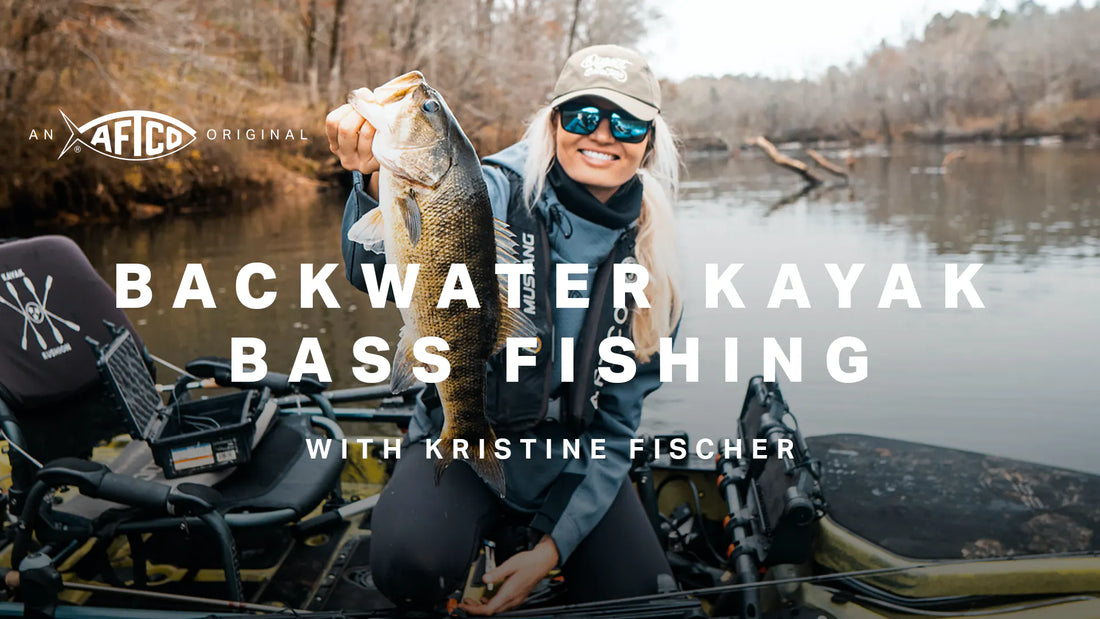 Backwater Kayak Bass Fishing With Kristine Fischer
Living the life of a nomad, professional tournament bass fisherwoman and passionate musky angler Kristine Fischer spends every day on the water honing her craft. Take a peek behind the curtain on her backwater pursuits chasing Shoal Bass in the heart of Georgia and learning how to disconnect.
"If you understand water flow, then you understand how these fish position in relation to it," Kristine says. "Once you put the puzzle pieces together, a simple change — angling your cast six inches to the right — can be the difference between no bites and catching one on every cast."
Of course, she has loads of experience chasing other bass, plus her beloved muskies, in fast-moving water, but she found the shoal bass – which exist in an ultra-limited group of river systems in the southeast – to be distinctive. "Not only are they one of the most beautiful bass I've ever caught, but they're known for being extra-aggressive, much like a smallmouth." There are times when finesse presentations, like a small jig, are the ticket to shoal bass success, but her best success has come on large profile lures. In that respect, they're more like hard-feeding largemouths, with the sight-feeding character of a bronzeback. She's caught them up to 20-inches long using big baits like hefty walk-the-dog topwaters, glide baits seemingly more suited to California's trout fed fisheries, and big boot-tailed swimbaits, too. "I was amazed at how incredibly shallow they live," she adds. "The faster the current, the better it can be. And if you hear that they're moving water, you'd better get on the water quickly." Where generation schedules are available, they can be your guide to the best times, but even when water's not moving, it's possible to pinpoint these fast water bruisers.
Her kayak gives her extreme flexibility to work through the shallowest, most off-the-grid sections of the river, but she stresses that rivers like the Ocmulgee have some "pretty advanced rapids" that are rocky, fast, and potentially perilous. Even if you're a competent and confident angler, it's critical to go with someone who knows the water. "Wear your PFD at all times," she cautions. "And if you don't feel confident, get out. Be sure to wear some sort of slip-resistant shoes too, because those rocks along the shoreline are very slippery."
Beyond her shoes, she notes that her choices with respect to other articles of clothing, such as fishing shirts, fishing shorts, and fishing jackets, also contribute to comfort, confidence and angling success. 
"Just like any athletic endeavor, I have to wear clothes that I can move around in a lot all day long and stay comfortable. When you're in waist deep water, you need something that breathes and dries quickly. Otherwise, you're going to be miserable. Choose your wardrobe with performance and comfort in mind." — Kristine Fischer