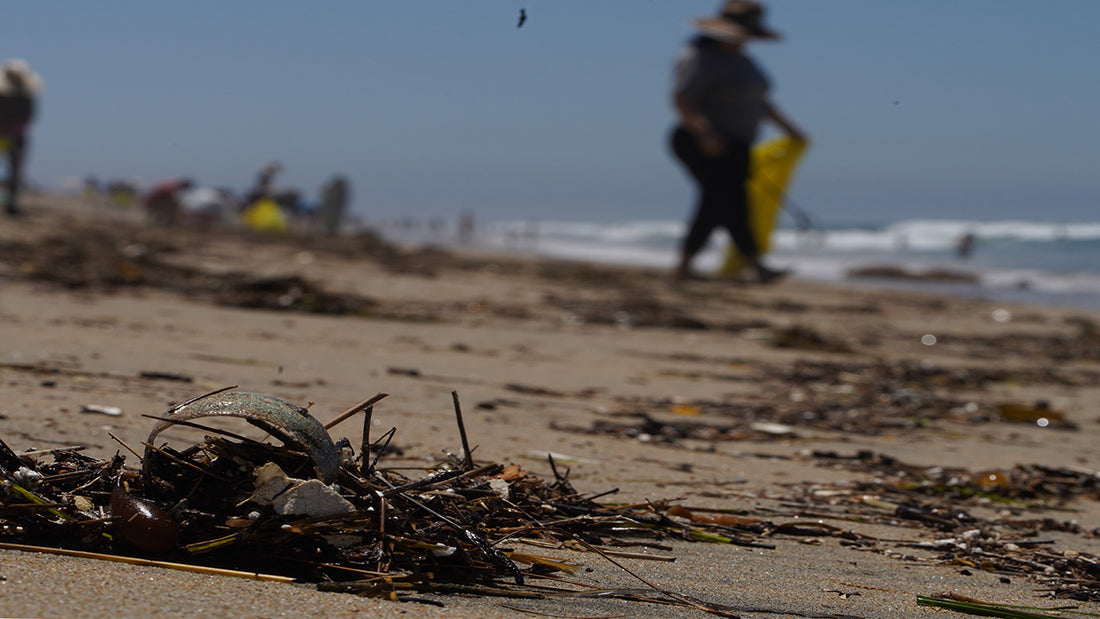 How Ocean Plastic Pollution Impacts Our Fishing Heritage
Summary: What You Should Know
Land based plastic, often single use plastic, is ending up in our oceans at alarming rates
Roughly a dump truck full of plastic is "dumped" into our oceans every single minute
Plastic decomposes

 incredibly slow

, only slowly degrading into microplastics over what can be hundreds of the years
Impact: Plastic in our oceans impacts the fish and the fisheries we deeply care about through ingestion, entanglement, and more.
Action: There are a number of ways you and companies like AFTCO can work to turn the tide on these issues.
Our Goal: Turning the Tide on Plastic Pollution
Ocean plastic pollution is a problem faced by outdoor enthusiasts and anglers alike. Our goal is to help turn the tide on the prevailing, negative statistics and provide our fishing communities with the resources, education and empowerment needed to see tangible change for the next generation.
We believe education on the issue of ocean plastic pollution, and more importantly, its relation to anglers and the outdoor community, is vital for change. Let's start with a simple question.
What is plastic pollution?
Plastic pollution is an "… accumulation in the environment of synthetic plastic products to the point where they create problems for wildlife and their habitats as well as for human populations." (Britannica)
The issue is clear. Synthetic products are causing some level of damage to the natural world and environment, but beyond that, they are also causing harm to people.
What is "Single Use Plastic"?
Single use plastic is the type of plastic items that everyone uses only once before the item is unusable and then disposed of. Amazingly, 50% of all plastic created in a year is single use plastic and is never reused. Examples of these single use plastics are:
Plastic Straws
Water Bottles
Plastic Bags
Plastic Forks, Spoons, and Knives
A rise in plastic production and consumption
It wasn't until the early 20th century that plastic became such an integral part of our world's commerce, and we're already seeing the widespread affects especially on our world's oceans (Britannica).
Global production of plastic caps out at around 370 million tons per year and, as mentioned previously, approximately 50% of this number can be attributed to single-use products. (Statista)
Along with this, 91% of all this plastic does NOT get recycled, but rather added to landfills while only the remaining 9% get recycled or incinerated.
The statistics are telling: Of that total plastic, 8 million metric tons end up in our oceans every year, which equates to about 17.6 billion pounds (NOAA). That's roughly equivalent to a dump truck full of plastic being added to our oceans every single minute. Finally, what we see on the ocean's surface only amounts to about 15% of the overall debris. Nearly 70% of the plastic sinks into the ocean's ecosystem (Condor Ferries).
Science magazine explains the impact:
"Plastic pollution affects many aspects of human well-being: affecting the aesthetics of beaches, blocking drainage and wastewater engineering systems, and providing a breeding ground for disease vectors." — Science
The timeline between the rise of plastic production in our world's commerce and the growing pollution levels we see today demonstrate the urgency of creating sustainable solutions in every arena. Still, we remain hopeful. 
As stewards of our waterways, we have a responsibility to understand our own impact as well as the global impact on our oceans. Plastic pollution is near the top of the list.  We must take steps to ensure we are not part of the problem while also proactively repairing the damage done.
How does plastic pollution impact fish?
As anglers, our livelihood and legacy depend on the water. There is no denying it. More than that, we were given a gift by the previous generation. Our goal should be to conserve, protect and pass on this legacy for the next generation. The best way to rebuild and repair is diving into the issues and paving a way for growth and change. 
Beyond the issues of legacy at hand, the livelihoods of anglers around the world depend on the health of our oceans.
Whether our fisheries are fresh or salt water, our oceans and waterways are interdependent. Plastic pollution touches our daily lives and encroaches on our places of recreation and commerce.
"We all know through the mass media that a wide range of the usual "charismatic marine life" are impacted by plastic pollution through entanglement or ingestion, including marine mammals, birds and, most notably, turtles. However, the average angler is seldom besotted by blubber wearing or blubber eating marine beasts, being more interested in fish. So, what impact can plastic pollution have on fish? You may be surprised that the answer is, "plenty"." (Fishing World)
Litter dropped in streets, lightweight plastics in landfills or illegally dumped waste can be carried by wind or rain into the ocean (BBC). Pollution can even make it to the ocean from miles away when they fall into storm drains that all lead to the ocean. So just because someone is far away from the ocean does not mean they are not affecting the ocean and waterways with pollutants.
Once plastic gets into our waterways, issues for fisheries only intensify. It can take plastic hundreds of years to degrade, and unlike some other kinds of waste, plastics decompose very slowly (NOAA). As the plastic turns into smaller and smaller pieces it becomes microplastics. As the name suggests, these pieces are virtually undetectable in size, especially amidst the vast backdrop of the ocean's current.
"Nearly 700 marine species and more than 50 freshwater species are known to have ingested or become entangled in macroplastic, and there is growing evidence that plastic is ingested by a wide range of terrestrial organisms." (Science)
When small organisms ingest microplastics, it eventually makes it up the food chain until it has the possibility of being consumed by humans. The problem with this is by the time it makes it to us, it has "bioaccumulated". If a small fish eats 10 pieces of microplastic, and then a medium size fish eats 10 of the small fish, it now has ingested 100 pieces of plastic. Then a large fish eats 10 of the medium sized fish so it now has 1000 pieces of plastic and it accumulates exponentially until we ingest it.(ScienceDirect)
Ocean based sources of pollution.
In addition to the larger volume of plastic that comes from land based sources, ocean pollution includes derelict fishing gear that originates largely from industrial commercial fishing fleets while at sea.  Abandoned commercial fishing gear makes up an estimated 10 % of all ocean debris. Its a particularly impactful form of pollution and can lead to discarded fishing gear that is no longer under a fisherman's control continuing to trap and kill fish, crustaceans, marine mammals, sea turtles, and seabirds (NOAA).
America's 55 million recreational anglers care about responsibly conserving our public resources. These pollution issues and the overfishing generated from destructive gear types is of particular interest to AFTCO, as we were instrumental in helping to ban near shore gillnet bans in California dating back to the 1990's.  Our work on the gear type issues continues to this day. In 2019 AFTCO's chairman Bill Shedd testified in front of congress on behalf of legislation that would ban the use of drift gillnets in California's swordfish fishery. We believe that a transition away from drift gillnets to more sustainable commercial fisheries is the most impactful way we can help to remove nets from our oceans.
How you can take action and help
Starting with eliminating single-use plastic, keeping waste of our waterways, and being mindful of how our consumption affects the places we're most passionate about is a great start. The single simplest change is eliminating single use water bottles. Purchase a well-built mutli-use water bottle from a brand that supports fishing conservation and responsible fishing access. Yeti makes a number of double-wall vacuum insulated water bottles we love. Other fishing brands like our friends at Marsh Wear are even offering single wall stainless steel bottles. Finally, if you're a guide, consider joining Costa's Kick Plastic Guide & Outfitter Program which is designed to help you make the switch from disposable to reusable water bottles in your business.
Unfortunately, recycling alone is not the answer when you see the data above of how little plastic is actually recycled. That is what makes refusing single use plastic such an integral step to eliminating the plastic that may harm our waterways and animals around the world. Along with water bottles, consider finding other reusable options such as reusable grocery bags and forks, knives spoons and straws when eating out.
It's the simple desire to see cleaner waterways that fuels these initiatives. Whether it was your trash or someone else's, we can join with organizations, friends and family to host cleanups or support ongoing projects where we may not be able to be physically involved. AFTCO provides some great resources for fishing community ocean and lake clean ups and a simple google search provides plenty of tips for anyone looking to create their own clean up. 
Consumption and waste are two key factors when it comes to this issue. Companies and industries have a responsibility for the products they create for the whole duration of their lifecycle, not just when they enter the market. This looks different for every organization.
What AFTCO is doing about plastic pollution
At AFTCO, our Fisheries First Sustainability Pledge was created to address these issues in our own company. From a business level, we're making it our aim to transition apparel to recycled materials, update packaging, eliminate single-use plastics and consider how we can contribute to, not detract from, the long-term health of our fisheries.
Thankfully, we are not alone. There are several brands and industry leaders working together with us to make this change possible. One way to get involved in this initiative, is to consider your own consumption patterns and the companies you support or consider how you can encourage brands to continue to value and push these issues forward.
At the end of the day, an investment in the elimination of ocean plastic pollution goes far beyond simply knowing the problem exists. Although the numbers are telling, we remain hopeful and passionate about making a difference and we invite you to join us as we implement these solutions. Our chief concern is the impact these issues will have for the legacy and livelihood of our fisheries. As a result, we're committed to producing products from the sea, for the sea and turning the tide on the issues of ocean plastic pollution.
Resources:
https://oceanservice.noaa.gov/hazards/marinedebris/plastics-in-the-ocean.html
https://www.britannica.com/science/plastic-pollution
https://www.wwf.org.uk/updates/how-does-plastic-end-ocean
http://www.fishingworld.com.au/news/fish-facts-the-problem-with-plastic
https://science.sciencemag.org/content/369/6510/1455
https://www.condorferries.co.uk/marine-ocean-pollution-statistics-facts
https://www.statista.com/statistics/282732/global-production-of-plastics-since-1950/