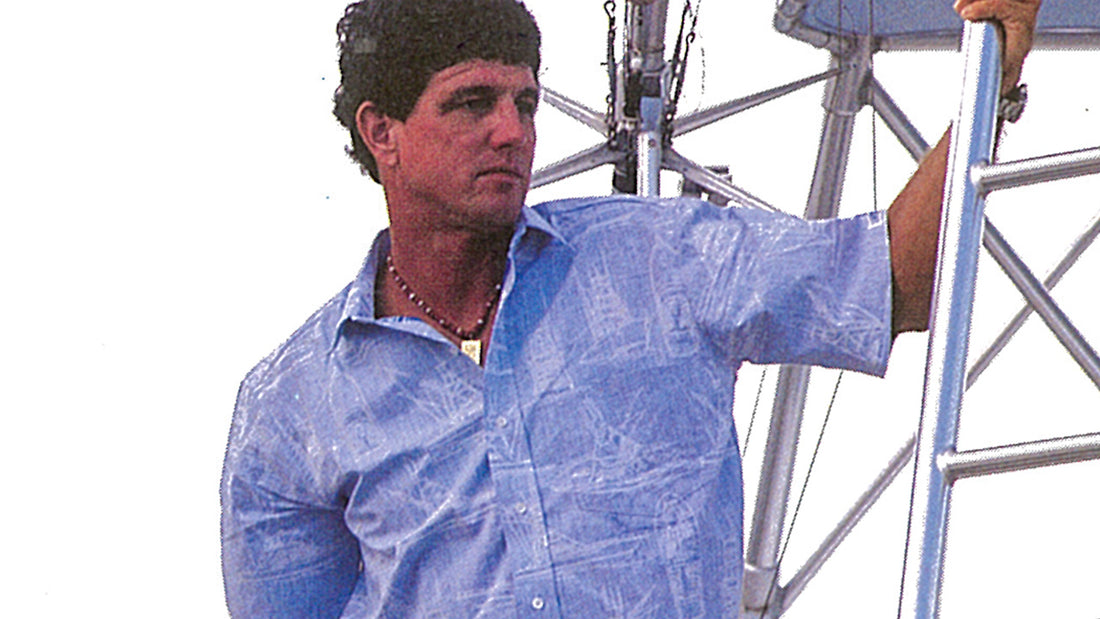 Peter B. Wright: Tribute to a Big Game Fishing Legend
The term "Legend" is thrown around all too often. However, this week the big game sportfishing community lost just that – a true legend.
Peter B. Wright
1/08/1944 – 1/23/2023
Peter B. Wright – The Innovator
Words by AFTCO's Bill Shedd
It is a sad day in the world of big game fishing. We lost a highly talented and entirely unique man. He was a longtime personal friend both to me and AFTCO. He will be missed. Peter was the most knowledgeable and experienced person I ever met when it came to big marlin and tuna.
Quite simply, he was brilliant. We talked to Peter about nearly everything new AFTCO produced, as no one understood the mechanics, physics, and fish behavior involved with fighting big game saltwater species better. Peter was one of AFTCO's first pro staffers and was there not just for most AFTCO tackle product developments, but also doubled as a model for our first photoshoot and catalog when we launched our apparel line around 1990. Recognizing the need for hand protection while taking wraps on large marlin and gamefish, Peter developed the AFTCO Wire Max leadering gloves that set the standard for anglers and mates across the globe. He was quick to understand the value of the tapered AFTCO gaff design, and when developing the angles for AFTCO's bent butt, he was instrumental in defining the exact degrees and shape. Peter provided valuable information to develop the AFTCO Big Foot® roller guide and a whole lot more.
He thought outside the box and was the respected leader amongst the best of the best. 40 years ago, before ever meeting him, I began to hear stories about Peter. Often with reverence, but sometimes in the context of those who did not really understand him that said, "He sure thinks he knows a lot about everything." As I got to know Peter, it quickly became clear that he was scary smart and did in fact know a whole lot about big game fishing and more. It is not arrogance when one can back up his words and Peter had the talent to do so. All knew Peter as someone not afraid to speak his mind, but those of us who knew him well saw his compassion for others and his interest to not just teach, but to learn from them as well.
In short, AFTCO and the big game fishing industry are immensely indebted to a great man, angler, and friend.
Peter B. Wright – The Accomplishments
As Noted by the IGFA
Peter B. Wright is a renowned angler, captain, journalist, and scientist. Raised in Fort Lauderdale, Florida, he worked on charter boats out of Hillsboro Inlet and spent summers and weekends fishing the Bahamas with Captain Johnny Whitmer.
After earning a degree in biology, Wright travelled to Cairns, Australia in 1968 and worked as mate on Captain George Bransford's Sea Baby II where he wired and gaffed his first two granders. He returned to the Great Barrier Reef in succeeding seasons and became a captain in 1970.
The heavy tackle and boat handling skills he learned fishing for giant bluefin in the Bahamas were invaluable in Cairns; his boat was first to have a tuna tower, a transom door, two-speed Fin-Nor reels, and curved-butt rods. In the mid-1970s he spent five years in Kona, Hawaii where he began fast-trolling formaldehyde-soaked baits to be more competitive against Hawaiian lures. Those led to the development of soft trolling lures including Mold Craft's "Softhead" series.
A member of the Cairns Black Marlin Hall of Fame, Wright has caught more marlin over 1,000 pounds than anyone. In his five-decade career he captured 77 and released countless more. These include a 1,442-pound black marlin that remains the largest ever weighed in Australia, and the women's 80-pound record of 1,323 pounds – still standing after 38 years. Wright also is recognized for sharing his vast knowledge of fish, techniques, and the history of the sport in numerous publications, and at seminars and events.
Bimini, circa 1988. Fun times with one of the great rascals of all time.
Peter B. Wright – The Friend
Words by Karl Anderson
Capt. Peter B. Wright. My Babe Ruth, Larry Bird, Tom Brady, Wayne Gretzky all wrapped up in one. A great friend, mentor, business partner, fishing buddy, teacher, preacher, and a reel humdinger! So many never knew his compassion, caring, and love of those close to him. Fair winds, following seas, and giant tailing blacks on the reef and bluefins in the alley forever. Rest easy. We'll look after Erin and Bimini you can be sure. Love you Pedro thanks for "everytingum mon" and everything else you didn't realize you gave to me… Suerte.