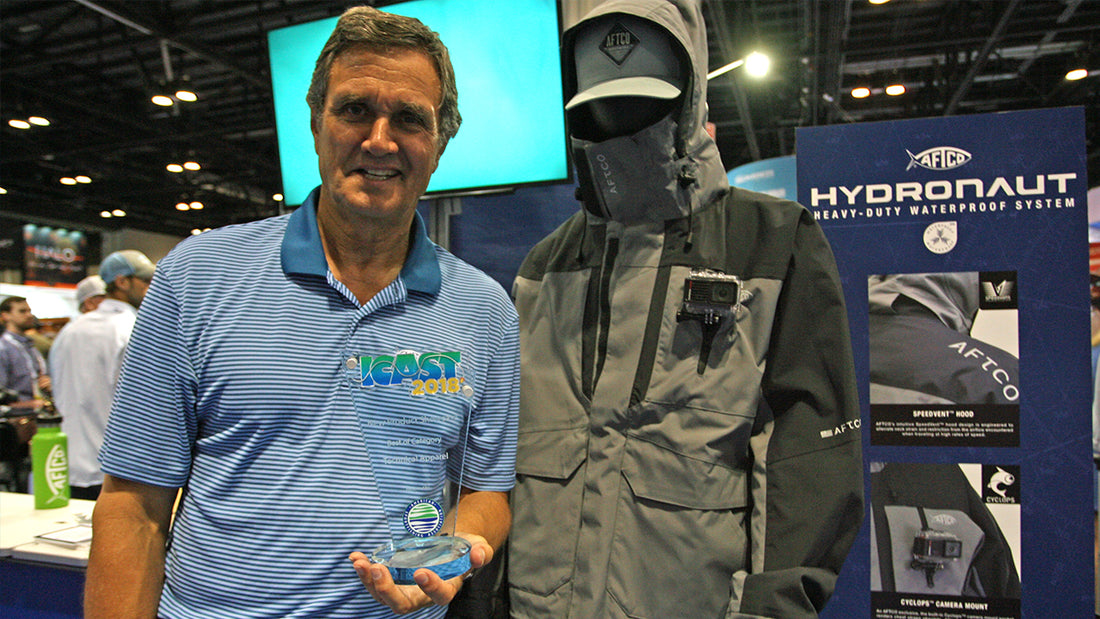 Orlando, Florida served as the host city for the 61st annual International Convention of Allied Sportfishing Trades, or ICAST as we like to call it. This was my 44th consecutive year at what was previously known as the AFTMA Trade Show, and by far the best one to date for AFTCO. I have never witnessed such a high level of enthusiasm for our brands, as our booth was packed from show open to close each day. Historically, the last day is usually slow for us at ICAST and every show we attend, but not this year. As some other exhibitors were already beginning to haul their products out of the exhibit hall on the final day we were still showing the AFTCO clothing line to a retailer. My guess is that we may have been the very last exhibitor at ICAST 2018 still showing product.
We were particularly busy this year for many reasons, including interest in our established AFTCO tackle and saltwater clothing businesses and the introduction of our new art driven coastal lifestyle brand 5Fin. However, a big reason for the interest this year was our entrance into the freshwater market and our sweep of the Best of Category awards for both Lifestyle and Technical Apparel with the Hexatron Performance Fleece and Hydronaut Heavy-Duty Waterproof System.
During a conversation at the show a writer asked me, "So Bill, how does it feel to be strapped to a rocket ship?" Having just met him, I was a bit confused and replied, "Sorry, I don't know what you mean." He then proceeded to tell me that AFTCO has quickly become the buzz of clothing conversations within the bass fishing world. I then simply thanked him and said, "Well to answer your original question, it feels very good."
After 60 years in the saltwater market we formally launched into freshwater on January 1st, 2018. During the show several people asked me how it was possible for AFTCO to have made such progress so quickly in the freshwater market. There are many answers to that question, but in reality AFTCO has been building toward this for many years. Since 1989 we have been the innovation leader in fishing shorts for the serious saltwater angler. And since 2004 we have sold over 25 million cotton t-shirts and performance shirts to protect saltwater anglers from the sun. Both freshwater and saltwater anglers need protection from the same sun, and since wet is wet, and both fresh and saltwater anglers need to stay dry, many of our current saltwater clothing items translate well into freshwater. AFTCO spent many years building the clothing team and expertise to do what we are now doing in freshwater.
Another thing that seems to be translating well into the freshwater fishing world is our company culture and product plan. We are a family owned and operated business, and very proud to have remained that for six decades. AFTCO stands for the American Fishing Tackle Company and the patriotic freshwater angler seems to relate to the meaning behind that name. We have a long and credible record of marine conservation leadership and have already found ways to contribute to bass conservation – something which both our retail partners and team of professional anglers seem to appreciate. While others have spent huge amounts of money to buy their way into the freshwater market, our culture and business model leads us to a more grassroots approach. In addition, many of our current products fit well into freshwater fishing and our marketing partner Outdoor Brands Team has joined forces with the AFTCO design team and our pros to create some truly unique new products designed specifically for the freshwater angler.
To say I am excited about this new chapter in the AFCTO story would be an understatement. Thank you to all our existing AFTCO customers who have helped us write the story up to this point, and to all our new customers I would like to welcome you to the AFTCO family.