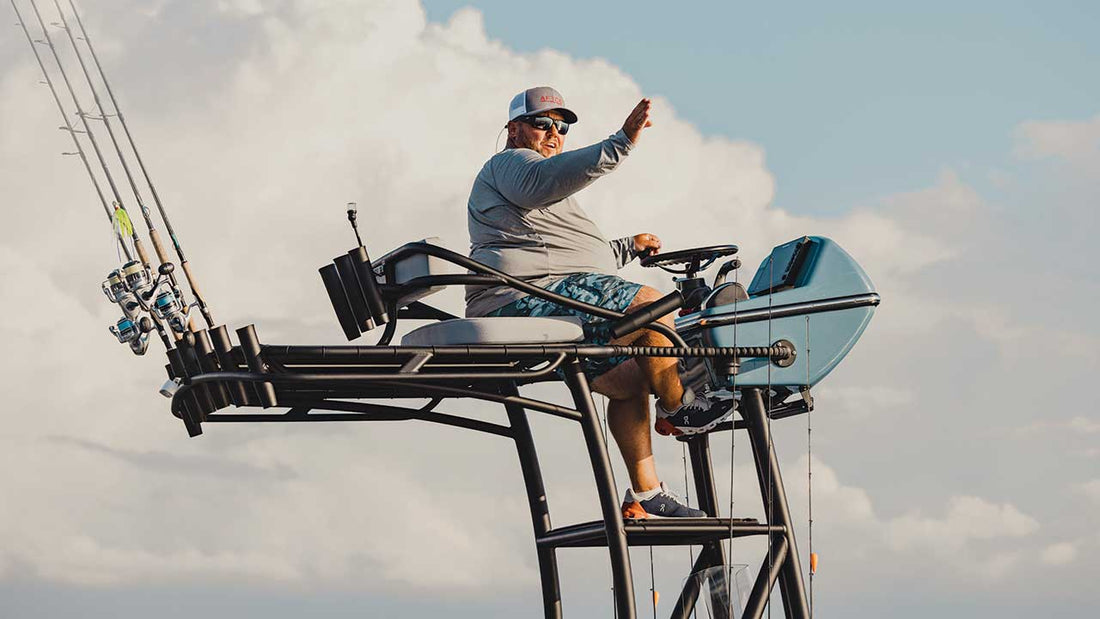 Capt. Jay Withers: A Man of the People
Words by Aaron Wood
Jay Withers exudes a humility that one doesn't find often in a captain.
Willing to laugh at his mistakes, but not boast at his accomplishments, he can look back on his journey with pride, and take comfort in the many fish, belly laughs, and destinations still to come.
"I'm thinking about moving to Florida to become a fishing guide," Jay Withers told his wife, a statement that most wives would scoff at. But his wife, a constant source of support over his now two decades of guiding, trusted in his ability to succeed.
Withers was in the diamond industry at the time, a lucrative means of business for a man in his mid-twenties. While financially successful, he acknowledged a vacancy that money could not fill.
"I was wearing a suit and tie seven days a week, going to social parties, wearing cufflinks, and I couldn't see myself doing that the rest of my life."
Fishing was constant throughout, namely for bass and crappie in the Buckeye State, but Withers regularly hired guides when traveling for work. It was one particular charter off Anna Maria Island that acted as the catalyst for a massive career pivot.
"We had an awesome day of fishing and the guide had on flip flops, shorts, and a t-shirt. The next day I flew back to snow, sleet, and suit and tie. Something didn't feel right. That's when the wheel's started turning."
The move came a few years later, when Withers pulled into Charlotte Harbor in a U-Haul with two cats in the front seat and a bass boat behind it. "The bass boat was a mistake," he noted, which was quickly replaced by a beat-up flats skiff used to hone his skills.
"I did everything wrong you could possibly imagine in that boat. I put it on sandbars, and oyster bars, and got it stuck high and dry," Withers said, reflecting that to learn, there is no substitute for time on the water.
And learn he did, purchasing a map of Charlotte Harbor, dividing it into quadrants, and committing himself to fishing each one for months at a time. Those early years were not easy. An outcast amongst the locals, he was determined to conquer an "out of control" learning curve.
With an early passion for tarpon, Withers was dedicated both on and off the water. He put a kiddie pool in his home office, outfitted with an aerator and filter, to hold a stock of live blue crabs. A testament to the support of his wife, "She managed the kiddie pool program for years." These days, she still helps manage the bait tanks, but the crabs and shrimp no longer reside inside the house.
Between running two and three trips a day and writing fishing reports for the local paper, Withers carved out a reputation for himself through sheer ability and determination. He found success in the redfish circuit and tarpon tournaments, announcing that to both Charlotte Harbor and the Florida fishery he wasn't going anywhere.
He's currently as busy as ever. His television show, "Guidelines," is launching its fourth season, returning to locations he fished while still in the diamond business to bring his story full circle. Asked about the origins of the show, he explains that as time went on, his passions went beyond just catching fish.
"It's about the journey, the story, the location, and the people," slyly adding, "It's also a great excuse for me to go fishing."
Although Withers knows he needs to slow down and enjoy the rewards of grinding year after year, he is still making plans: "I've got lots of places I want to go, and bucket list fish I haven't caught before."
With the tarpon migration in full swing, Jay will have to wait a while to travel, as his guiding season fills up a year in advance. Despite the grueling days, he looks forward to the spring season and reconnecting with clients he has guided for many years—a testament to his abilities and personality as clients keep coming back.
Gear for Big Guys
Samurai UPF 50+ Sun Shirts in 3X-5X Sizes!