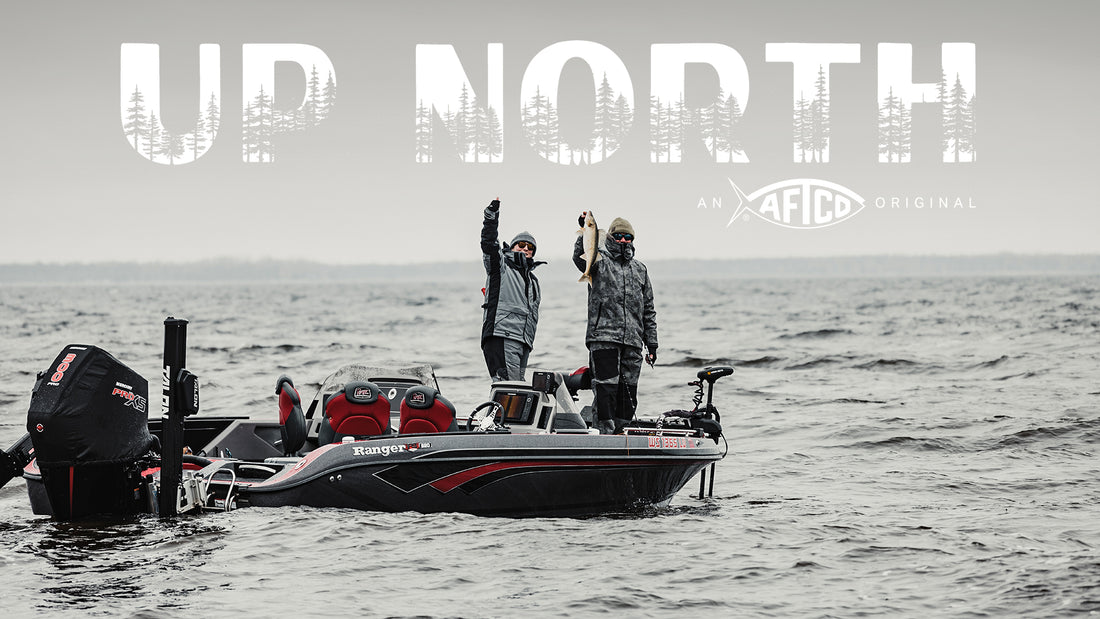 Up North: Woods, Walleye, and Smallmouth
Words by Aaron Wood
"My family was here before my time, and now we're going to pass that on to our kids." — Josh Woodward
Set in Wisconsin, "Up North" explores the passion and pursuit of the midwestern angler. Whether they're breaking ice on Green Bay to chase trophy walleye or traveling up to the Northwoods to carry on years of family traditions, Kaitlin and Josh Woodward embody a passion for fishing in its truest form.
There is a defining moment in any serious angler's life when the act of fishing transitions from a casual hobby into a defining trait of one's being. For Josh Woodward, that moment came early.
When I asked the Woodward's about their fishing background, Josh told me, "I was introduced to it at a young age, fishing Green Bay with my dad and grandpa," before Kaitlin interjected, "No, no. He's not telling the whole story."
Josh's introduction to northern Wisconsin's fishery was shaped by men who sought to wring every ounce from the day. They launched shortly after 5 AM, bringing the bare amenities to quench thirst or quiet grumbling bellies, fishing hard well into the evening. While most boaters saw the late-setting sun of Wisconsin's northern latitudes as an indicator to head in, Josh's grandpa and father saw it as a mere suggestion, arriving back to the dock in the same darkness they had found it.
Those early days served as a crash course in Great Lakes fishing for Josh, where he was taught the intricacies and demands of pursuing walleye and smallmouth bass, inheriting the same headstrong mentality of his elders. While his classmates played casual watersports, Josh enjoyed the rigors of aggressive fishing, eagerly latching onto the grind of long days on the water. Those early years of learning Wisconsin's lakes lay the foundation for a future fishing career, but one could argue the next chapter completed it.
Kaitlin admits she grew up fishing under casual circumstances, but that would soon change. The two met at an early age, and Kaitlin's transitional moment as an angler occurred on her first trip to the Northwoods with Josh—the same area he had traveled to throughout boyhood. High-school sweethearts and married by twenty-two, the Woodward's relationship stands as a wholesome rarity in our modern times of swiping right.
The next fifteen years have been defined by their time on the water together, a yin and yang partnership leading to ample success. Kaitlin, heartsick for the grandeur of the outdoors, and Josh, hyper-focused on the pursuit of finding fish, have formed a powerhouse duo, drawing inspiration from each other's unique approach and carving out a happy middle where big fish lie.
"There is no one else I would rather be fishing with. We are truly best friends," Kaitlin remarks, only for Josh to mirror the sentiment moments later, audibly laughing when asked if they ever tire of each other's company.
Their season starts in earnest sometime in March when the lake's tortoise-shelled surface of broken ice eventually becomes navigable. For the next few months, they are committed to finding trophy walleye and smallmouth bass, routinely pulling up some of the season's largest fish. Their success can be attributed to a unique blend of inherit ability, technological prowess, and the invaluable currency of experience.
"A lot of clients want to fish with us to learn because Josh is so dialed with electronics," Kaitlin remarks, a trademark he has gained a reputation for, "But once we find the fish, we have fun, and our clients come back to us because of that."
And find fish they do. They regularly put clients of Woodward Fishing on trophy smallmouth bass and walleye taping over that elusive 30-inch mark. While they underscore that they have no problem keeping fish, they place emphasis on the value of catch-and-release to maintain the health of a place that is more than just a fishery.
And while at the time of writing, a winter storm bears down on Wisconsin, the Woodwards are dreaming of the first inklings of summer, when temperatures warm and daylight seems to stretch onward and outward like thistle and vine. They'll head northward, their German Shepherd companion by their side. There, they don't visit a place but rediscover one. Where Josh's grandpa first exposed him to his home waters of the Northwoods, where Josh brought Kaitlin for their first shared time on the water, where they return each year as if to further intertwine their name into the forest's storied past.
"Do you ever see yourself leaving?" I asked out of curiosity, acknowledging the slog of winter can weigh heavy on the heart and mind.
"We'll always have roots to the Wisconsin Northwoods… We'll always call this home."