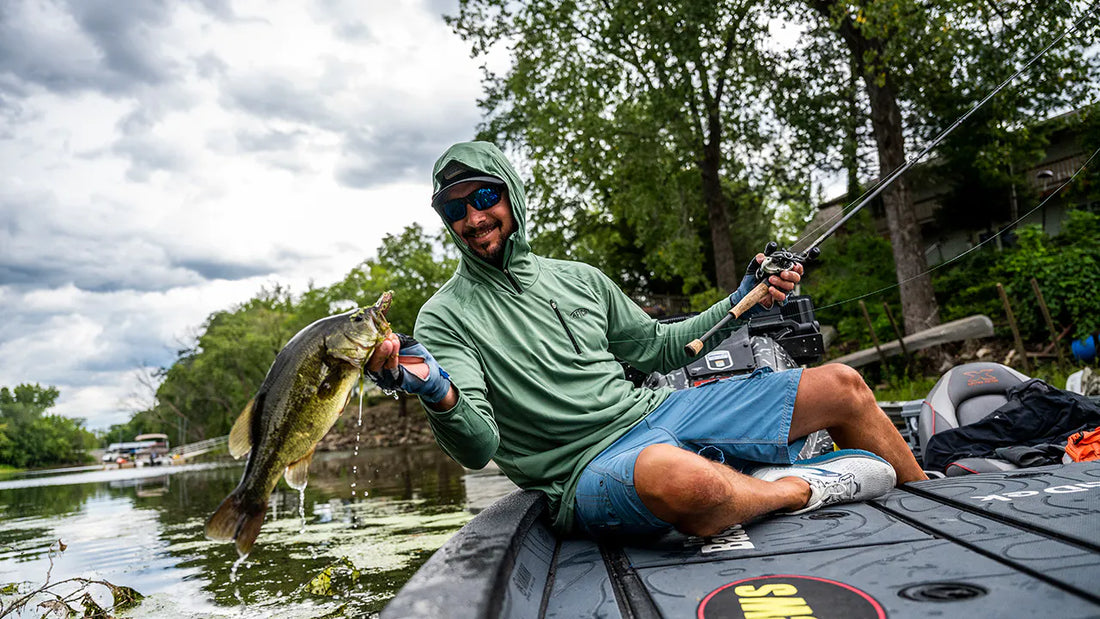 Jason Christie's Performance Picks
2022 Bassmaster Classic Winner Jason Christie has amassed over 2 million dollars in career earnings. Being an early adopter of performance clothing, Jason is a large part of AFTCO's success in freshwater clothing. If you watch Jason fish, you will notice three clothing items he always has on. A sun protection shirt, fishing shorts and sun gloves. The ultimate package to be dangerous on the water. These are the three performance clothing picks from Jason Christie.
Jason Christie Performance Fishing Hoodie
Jason collaborated with AFTCO to perfect the Signature Performance Shirt. His direct feedback was instrumental to fine tune the already popular Samurai hooded performance shirt. Jason took additional measures to modify the hood of his Samurai shirts to improve the sun protection coverage on his face and prevent glare. Jason's new performance sun protection shirt is just one part of the overall sun protection system he implements while on the water.
Stealth Fishing Short
Jason chooses our Stealth Fishing Shorts to keep him cool and comfortable, while utilizing high SPF sunscreen to protect his legs from harmful UV rays. Stealth provides UPF 50 Sun Protection and extends passed his knee providing a little extra coverage when he is on his feet moving around all day.
Solago Fishing Gloves
The best selling Solago fishing gloves provide protection of your hands which are often forgotten about. Solago provides UPF 50 protection while the fingerless construction allows the highest dexterity when tying knots or feeling bites.
Sun Protection clothing is incredibly important for a professional angler like Jason Christie. He spends hours in the sun with no overhead protection that can cause serious damage to his body in short and long term capacities. Read about sun protection clothing if you've ever wondered why Jason Christie has a signature sun protection shirt.
Follow all of the behind the scenes action on our AFTCO Freshwater Instagram.