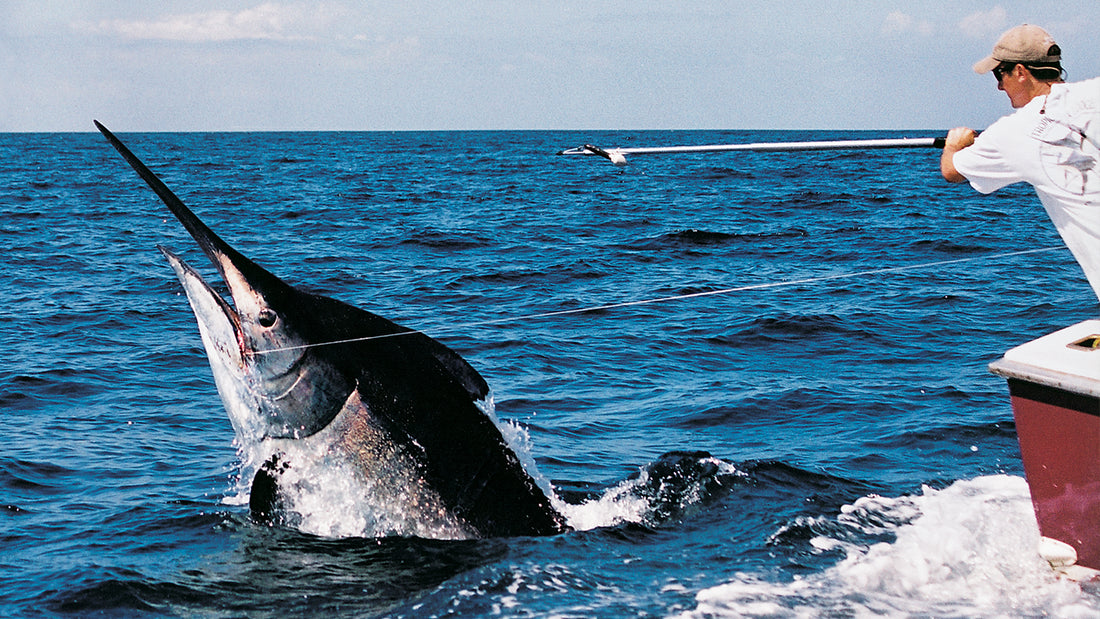 The Ultimate Monster Fish Story
This is the ultimate "fish story" because it involves a monster fish (1,200 plus pound black marlin), a world class angler (Neil Patrick) who graciously gave up personal glory and a potential IGFA world record for the sake of science and conservation, and the unbelievable feat of a man (Guy Harvey) who swam down to attach a second fishing line so the majestic fish could be brought up quickly enough to be tagged and released unharmed.
In late January of 2005, Guy Harvey traveled to the Tropic Star Lodge in Panama to tag black marlin and to film the process for his popular television series "Portraits from the Deep." Guy's series is not your typical fishing show, as it combines awesome fishing footage (both from above and beneath the water) with the science and conservation of various fish species in a way that only Dr. Harvey can present it. I felt privileged when asked to join him as "guest angler."
The tags we were to use — Pop-up Satellite Archival Tags (PSAT), which are the latest in modern technology and cost $4,000 each — served as part of a broader research program in cooperation with the Pfleger Institute of Environmental Research (PIER) in Oceanside, CA. Designed for use in learning more about the movements of pelagic game fish in the world's oceans, the tags are attached to fish prior to their release, after which the sophisticated transmitters record data such as depth, water temperature and location. Following a programmed length of time, the tag pops up to the surface, where the information is sent to a satellite and then on to the researchers at PIER.
After a couple days of fishing Panama's Zane Grey reef, we had successfully caught and tagged, with the PSATs, a couple of black marlin up to 425 pounds. Working with other boats in the Tropic Star fleet, we also successfully transferred (then tagged) a marlin from another boat to our own, which was an action-filled event in itself. While all of that was enough to make for a fantastic trip, it paled in comparison to what was about to happen next...