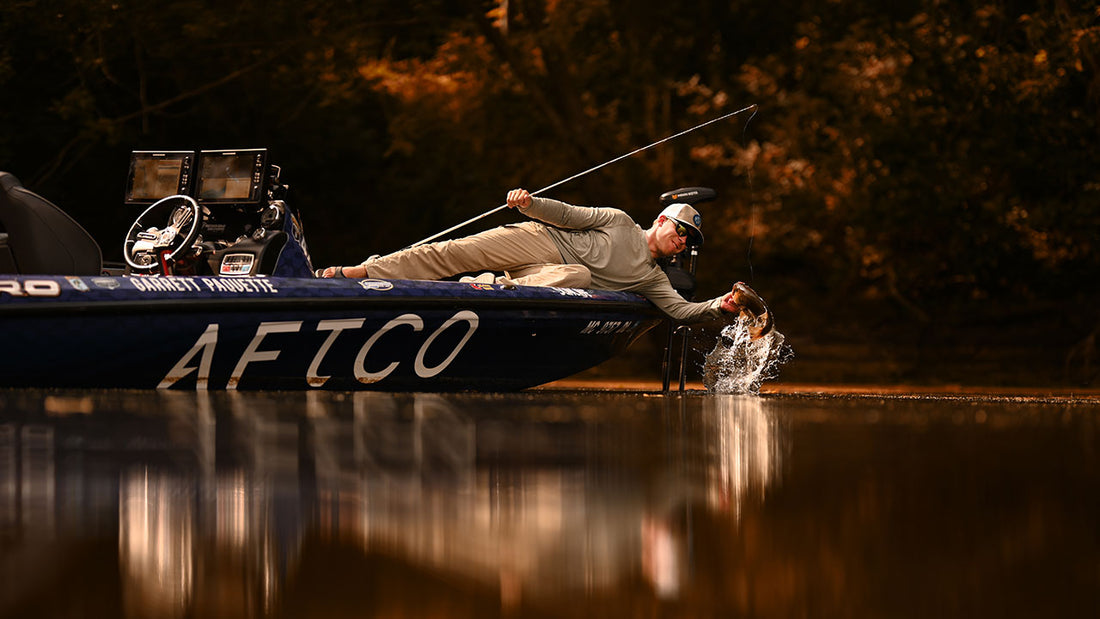 AFTCO Strengthens Presence In Freshwater Fishing
AFTCO's freshwater expansion aims to connect a longstanding conservation mission to more anglers.
In 2020 we are increasing our focus on bass, crappie and walleye fisheries. From welcoming two-time B.A.S.S. Angler of the Year Gerald Swindle to the AFTCO family, to our support of the National Walleye Tour, we are committed to connecting our 10% Pledge to Protect and Conserve to more anglers.
According to AFTCO President Casey Shedd, "The past few years have brought widespread change to the fishing industry with private equity taking over several respected brands, resulting in a lot of non-anglers at the helm of these companies. I see this as detrimental to the fishing community and our fisheries. It shifts a company's focus away from what's important."
"Amidst this change, we're proud as ever to remain stable and family owned with a laser focus on conservation and solving real world fishing problems. Our increased freshwater presence fits well into our company's broader mission" says Shedd.
Focusing on the long term goals produced two more Best of Category awards at the 2019 ICAST show. We also believe it's responsible for attracting anglers in all markets to the AFTCO team.
"The past few years have brought widespread change to the fishing industry with private equity taking over several respected brands. I see this as detrimental to the fishing community and our fisheries."
— CASEY SHEDD, AFTCO PRESIDENT
We've expanded our pro team with the addition of six new Bassmaster Elite anglers to represent our line of bass fishing apparel. New to this year's roster are veterans Gerald Swindle, Chad Pipkens and Mark Menendez, along with 2019 top 10 AOY finishers Matt Arey and Shane Lehew. Rounding off our new signings is 2020 Elite Series rookie Wes Logan who qualified through the B.A.S.S. Central Opens.
In 2020, we're planning an increased conservation partnership with the B.A.S.S. Nation and continue to support our current freshwater conservation programs. Our conservation mission aligns well with values of AFTCO's new anglers, including Elite Pro Mark Menendez.
"Sun protection and the battle against Asian Carp are two very important topics to me," says Menendez. "I will be leading AFTCO's efforts to help the battle on Asian Carp with awareness and funds to make a direct impact in Kentucky."
AFTCO's new pro's will join the 2019 Bassmaster Rookie of The Year Drew Cook and fellow Elite anglers Clifford Pirch, Micah Frazier, Greg Dipalma and Ray Hanselman as a part of 2020 AFTCO B.A.S.S. Elite Series pro team. Michigan's Garrett Paquette will be running an AFTCO wrapped Bass Cat on the Elite Series, and AFTCO anglers Scott Martin, Bradley Hallman and Matt Pangrac will compete in the B.A.S.S. Opens field. In total, 17% of the Bassmaster Elite Series field will be wearing AFTCO products at the 2020 AFTCO Bassmaster Elite at St. Johns  
---
"I'm looking forward to joining a family business with a 60+ year history and some of the most innovative fishing clothes on the market. It's going to be a great year! I am excited to have all the gear I need for any condition from the start of the Elite Series in February to the end of the season in August."
- GERALD SWINDLE
Josh Bertrand, Jason Christie, Dustin Connell, Todd Faircloth, Shin Fukae, Jeff Kriet, Russ Lane, Jared Lintner, Michael Neal and Wesley Strader will again represent AFTCO on the Bass Pro Tour in 2020. Each angler is both an ambassador of the AFTCO brand and champion of our conservation ethos. With the BPT's catch, weigh and release format, the AFTCO team has an excellent platform to serve as stewards of our freshwater resources.
After an exciting first year on the BPT, we're ready for our ten professional anglers to kick off the season on Alabama's Lake Eufaula February 7-12. Conditions should be ideal for showcasing the widely popular Reaper Fishing Hoodie and Hydronaut® Waterproof Jacket.
Professional walleye anglers Dean Arnoldussen, Robert Cardenas, Mark Courts, Drake Herd and Mike Olson will fly the AFTCO flag in 2020.
In 2019, Walleye fisherman became familiar with our rain gear and sun shirts thanks to touring walleye pros. After our successful partnership with the Michigan Walleye Tour, we've also teamed up with the National Walleye Tour as an official sponsor and look forward to kicking off the season at Chamberlain-Oacoma, South Dakota in April.
AFTCO adds the Crappie USA Team Trail and Wally Marshall (aka Mr. Crappie).
On the crappie front, we've teamed up with Crappie USA as a national sponsor for 2020. Crappie USA is the first and largest crappie fishing tournament organization in the world. Thousands of anglers participate in their events across 15 states annually. AFTCO joins their impressive sponsor list to provide crappie anglers with the best fishing clothing from spring to winter. From fishing shirts to sun protection gloves, our line of sun protection gear is perfectly suited for crappie fisherman.
For over 30 years, Wally Marshall has been promoting crappie angling, earning the title of Mr. Crappie. The 32-time Crappie Classic Qualifier and National Crappie Champion attends dozens of events each year, advocating crappie fishing to anglers across the country.
---
"I am very excited to partner with one of the largest fishing apparel brands — AFTCO! Crappie fisherman will now have quality products to wear like never before."
- WALLY MARSHALL, MR. CRAPPIE