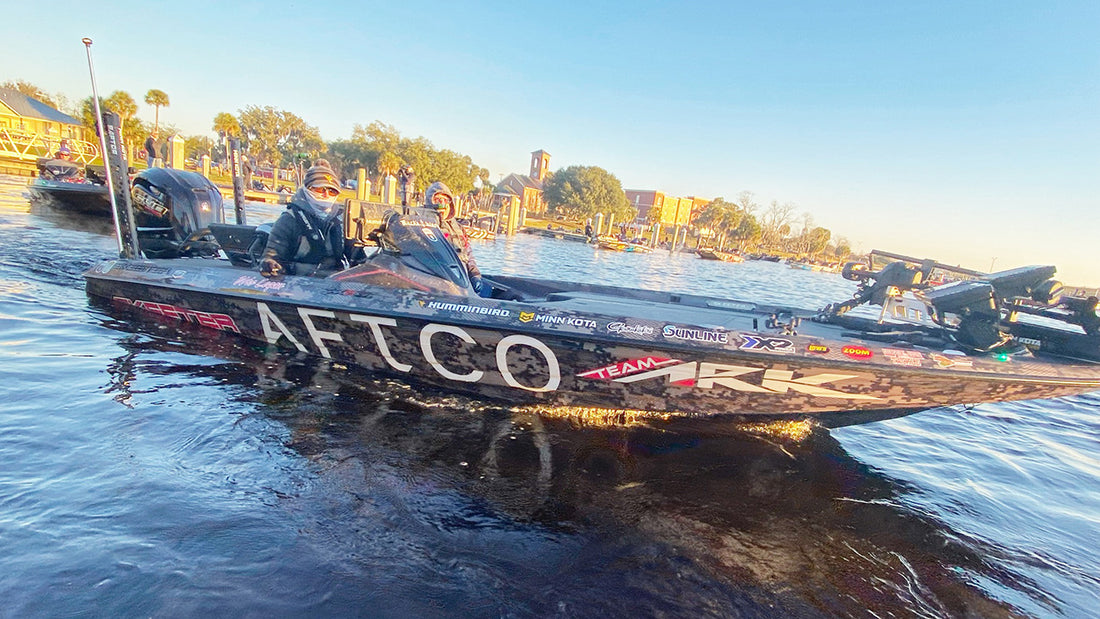 AFTCO Bassmaster St. Johns Recap
The AFTCO Bassmaster Elite Series at the St. Johns River marked the beginning of the 2022 season, and for the 94 anglers who launched their boats on day one, the first opportunity to claim the title of Elite Series champion. For Bassmaster Elite Series emcee and AFTCO pro team member Dave Mercer it signifies his 11th season as the man behind the microphone on the big stage where he gets to help those 94 anglers make their dreams become a reality.
Everyone has to start somewhere, and much like Mercer whose Bassmaster career began on the 2011 Bassmaster Classic stage in New Orleans, the 2022 Elite Series season is a launching pad for 13 newcomers and a bevy of returning anglers, including grizzled veterans such as returning AFTCO pro team member Mike Iaconelli.
"The 2022 Elite Series season is extremely intriguing to me for a variety of reasons," Mercer said.  "One of which is the opportunity for the young guns to get a chance to go head to head against veterans. You have an entire generation of guys who grew up dreaming about competing against anglers like Ike, Hackney, and Christie. This year offers them the opportunity to finally see how they stack up against their idols in some cases, and that really makes it exciting."
The St. Johns River event saw one of those veteran anglers John Crews claim his first Elite Series title since 2010, going wire to wire to win the AFTCO Bassmaster Elite at St. Johns River with a four-day total of 75 pounds, 4 ounces.
While the new versus old guard will be one storyline to follow during the 2022 season, equally as entertaining will be the opportunity a full unabated season will afford anglers to showcase their abilities on the water, but also on stage.
"Let's face it the last couple of seasons have been challenging to say the least trying to maintain a full schedule and do it in a safe and responsible manner.  My hope is that 2022 affords us the opportunity to get back to what we normally do on stage, and that is getting to spend some time talking with the anglers and allowing them to let the fans see their true personalities," he said.  "We've got some really witty anglers on tour that haven't had the opportunity to show that on stage due to the pandemic.  I'm committed to bringing the best out of the guys this year, and letting the fans see the side of them I get to see every day."
Another storyline that peaks Mercer's interest as the 2022 season gets rolling is the opportunity at the first ever Classic three-peat.  AFTCO pro team member Hank Cherry, who last year became just the fourth angler ever to win back-to-back Bassmaster Classics, is an odds on favorite heading into the 52nd rendition of the world's biggest bass tournament on Lake Hartwell.  Cherry finished 33rd in the 2018 Classic on Hartwell and 10th at the Bassmaster Elite on Hartwell in 2019.
"If you were to look at the Classic locations in 2020, 2021, and 2022 and ask yourself which one would you think Hank Cherry would have had the best chance at winning on you probably would have picked Lake Hartwell.  The fact that he got it done on Guntersville and Ray Roberts, before even having an opportunity to win it at a lake that he has a lot of history on and fits his style, makes a three-peat a distinct possibility in my mind." said Mercer. 
Mercer and the rest of the Bassmaster Elite Series anglers head to the second stop on the 2022 schedule later this week as they visit The Harris Chain in Leesburg, FL, and conditions are setting up to potentially make this one an absolute slugfest.
"It's been a long time since I've heard so many anglers with such excitement heading into an event. I think we just got a glimpse at what might be to come here at the St. Johns River with Crews, Cox, and Downey's big limits.  We've got a warming trend coming with stable conditions and a full moon. What more could you ask for when getting ready for a big tournament on a Florida fishery?  I'm excited to see what these guys can do on The Harris Chain." Mercer concluded.