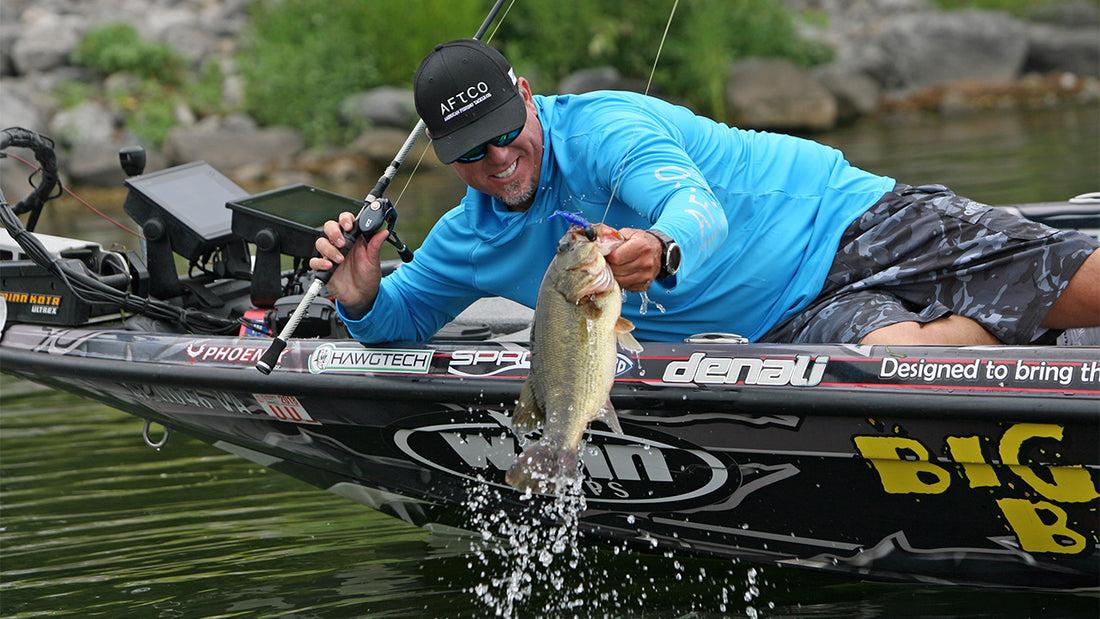 MLF Bass Pro Tour - Lake Toho Preview
For months now, the collective bass fishing world has been anticipating the inaugural Stage One of the Major League Fishing Bass Pro Tour (BPT). Eighty of the world's top professional anglers will converge on Kissimme, FL from Jan. 29 to Feb. 3 in hopes of securing the $100,000 top prize, and with that, the prestige of being the first BPT tournament champion.
Two anglers who are hoping to leave The Sunshine State with a feather in their cap, are AFTCO Freshwater Pro Team members Michael Neal, and Russ Lane. Both Neal and Lane have been intensely preparing for the event during the off season, and are chomping at the bit to hit the historic waters of Lake Tohopekaliga and get down to business.
"This is the most excited I have ever been in my career to fish an event. I cannot wait to launch my boat on the first day of practice and start the process of figuring out those Florida Bass," said Neal. Figuring out those Florida Bass can be largely dependent on the cooperation of mother nature, as they are notoriously finicky under cold front conditions.
"I believe how this event plays out is largely going to depend on the weather. Will it be shorts and T-Shirt weather, or are we going to have to break out the outerwear during a cold snap? That is going to make all of the difference in how this tournament is going to play out," Neal continued.
No matter what the meteorologist's predictions may be, Neal is confident in his game plan heading into the event. "My approach to Florida fisheries is not going to change despite the new BPT tournament format, nor the weather. I am a big proponent of covering water, and catching as many fish as possible when I am on a Florida fishery. My theory is that if you catch enough, the percentages are in your favor that eventually you will run across a big one," says Neal.
With that in mind Neal believes you will see the BPT competitors employing several different tactics to crack the code on Lake Toho and the adjoining bodies of water. "You'll see a lot of lipless baits, vibrating jigs, swim jigs, and things of that nature. I'm not ruling out that sight fishing might play a role in this event, but given the recent cold snap, unless we get a big warming trend I would be surprised." Neal concluded.
Russ Lane, who will be rooming with Michael Neal during the 2019 season, has a slightly different approach when it comes to fishing events in Florida. "I've typically done my best in Florida when I am getting 6 to 7 bites a day. When I am on that type of deal they are going to usually be solid fish, with a big one in the mix each day."
Ultimately Lane feels that this same approach will serve him well, even under the every fish over 1 pound counts rule of the Bass Pro Tour. "I'm not sure you can just go out and say I'm going to catch 50 one pounders in Florida. I know for certain that I have never been able to do that, and I have fished my fair share of tournaments there." said Lane.
Keeping an open mind will be critical for Lane to have a successful event, even though he will be looking for the opportunity to fish towards his strengths. "At this level of competition, we can all pretty much catch them on about any technique there is, but you obviously want to fish your strengths when possible. I am definitely going to be looking for a scenario where I can put a flipping stick in my hand and go to work with a big weight, and some braid. If I can get that going, I feel like that will give me the best opportunity to do well in the event." Lane concluded.
Follow all of the behind the scenes action on our AFTCO Freshwater Instagram account (@aftcofreshwater).